There have been two noteworthy moments when Presidents have saluted the credit union movement.
One was by democrat and the second a republican president, 46  years apart.
"We might do something to push this. They are popular"
Here is President Roosevelt's "shout out" in 1936: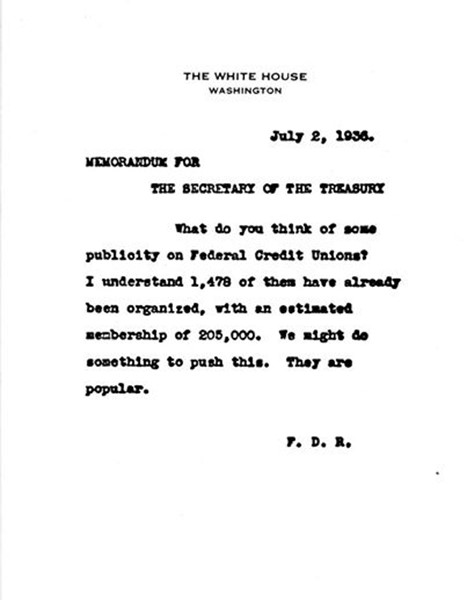 From 1934 through 1940, there were 4,793 new federal charters issued.  A rate of 600 per year.
Since NCUA's three person board was established in 1978, there have been 1,958 additional charters.  A rate of only 45 per year.  In the last decade that number has fallen to  two per year.
"I want to congratulate you. .. "
The White House,
November, 17, 1982:
Dear Ed:
I want to congratulate you on the progress  you have made as Chairman. . .
It was refreshing for me to learn of the accomplishments of the Board and the 17,000 federally insured credit unions across the country. . .there has been remarkable progress toward self-help solutions to the problems facing the credit union industry.   I applaud your efforts to meet the growing competition among financial institutions through the reduction of unnecessary regulations, decentralization, and improved communications.
I especially want to note the way your were able to guide the credit union movement toward restoration, on its own initiative, of the financial health of the National Credit Union Share Insurance Fund. . .  (emphasis added) This effort illustrates a basic tenent of our administration, that, given the leadership and the opportunity, individual citizens acting together can often find solutions to their problems and need not turn to the government to bail them out.
Keep up the good work.
Sincerely,
Signed Ronald Reagan
Source:  NCUA's 1982 Annual Report page 4
In April 1982, NCUA had completely deregulated the savings rules controlling all federal credit unions.  From 1982 through June 1987,  the credit union system's share growth exceeded 15% annually.
In this same six years, 511 new federal charters were granted, a rate of of almost two per week.
The rules controlling bank and S&L deposit products were not fully ended until June 1987.  The April 1982 NCUA board action gave credit unions a five year head start competing in the new era of deregulation.