NCAA rule changes and state laws that went into effect July 1 opened the door for college athletes to sell the rights to their names, images and likenesses (NIL) for the first time. Most importantly, earn income from these sponsorships.
This "NIL" marketing revolution for college athletes has taken off. Agents are offering their services. There are online courses to assist interested students learn about the possibilities.
Auburn quarterback Bo Nix has signed a deal with Milo's Sweet Tea. Milo's Sweet Tea is based in Bessemer, Ala., southwest of Birmingham.
Not to be outdone in the SEC, Coach Nick Saban announced that  Alabama  sophomore quarterback Bryce Young, who has yet to start a game in his career, has already signed deals using his name, image and likeness that are worth more than $800,000. He has been presented with deals well in excess of $1 million.
Fresno State's basketball twin powerhouse, Hanna and Haley Cavinder, will be sponsored by Boost Mobile. The Cavinders have more than 5 million followers combined across all of their social media platforms.
And the Arby's chain of sliced sandwiches are advertising to sponsor running backs in this tweet on July 1.
We have a thing for RBs & we've been wanting to pay college RBs forever. If that's you, email us: ArbysPublicRelations@InspireBrands.com pic.twitter.com/ua0eGxWKtC

— Arby's – We Have The Nuggets (@Arbys) July 2, 2021
But why should college athletes be the only focus for marketing sponsorships? Can Credit unions take the NIL concept to the next level and promote their unique brand at the same time?  And gain the allegiance of the next generation of members?
Introducing Harper
Harper has newly arrived on the performance stage as you see by her picture. Nonetheless she is seeking sponsorship, obviously from a credit union.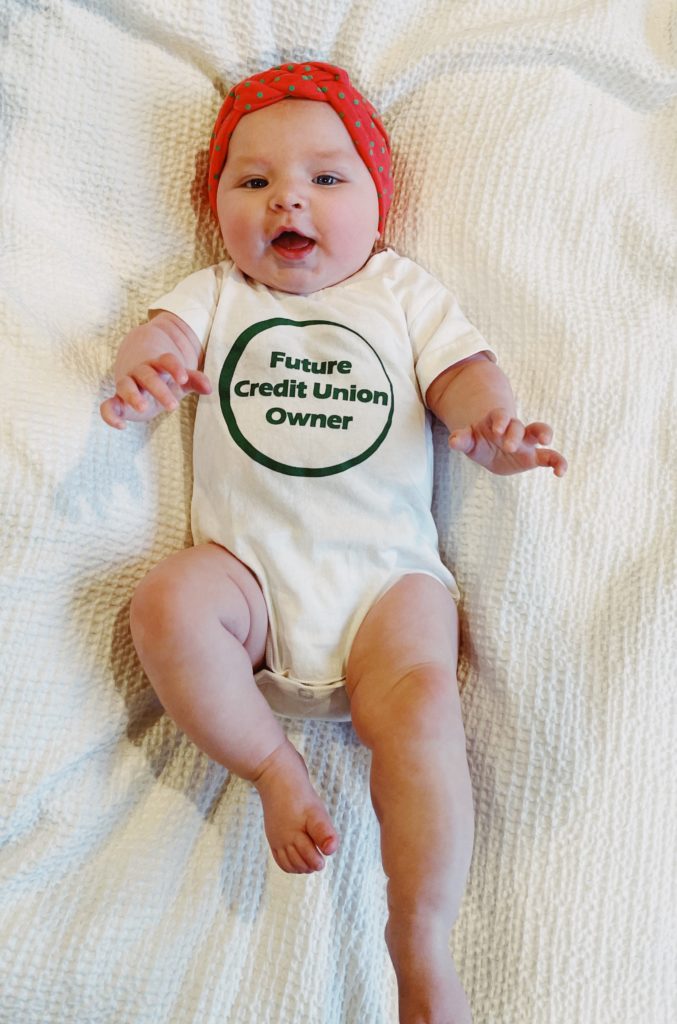 Harper is open to offers that will include at least three benefits:
Credit union membership
A 529 plan for her educational options
A Roth IRA account for her retirement
She believes her image or likeness reinforce the idea that credit unions are family. Membership covers all stages and needs for life.
Her athletic and professional directions are yet to be fully defined. However she is willing to consider a long term relationship now that could pay enormous future benefits for sponsors.
She will consider granting exclusive territorial rights to her NIL so that marketers do not have to worry about competing against their own "branding" campaigns.
Instead of the uncertainty and brevity of a college athlete's fame, Harper is offering a financial "put" on her ever-emerging NIL. That content should produce marketing images and stories for at least a generation.
For example: first toy, first steps, first birthday–documenting progress in all of life's wonderful phases.
Interested credit unions, leagues, CUSOs or even vendors are welcome to contact Harper at this email: harperwinninger@gmail.com. Her "agents" are on standby.