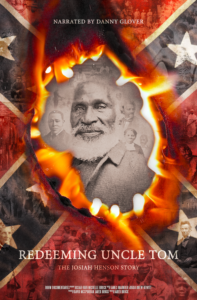 I follow   Jared Block's blog.  He was involved in the documentary described below.   Looks like a special event for this evening.  Let me know what you think.
Hey friends,
In addition to my thrice-a-week Surviving Tomorrow column, I also publish booksand direct documentaries.
One of those films is about an unbelievable hero that almost no one knows about:
The Prime Minister of Great Britain threw him a surprise banquet.
Earl Grey offered him a job.
The Archbishop of Canterbury wept after hearing his story.
President Rutherford B. Hayes entertained him at the White House.
Queen Victoria invited him to Windsor Castle.
He won a medal at the first World's Fair in London.
He was the first African American to appear on a Canadian stamp.
He was a Methodist Episcopal elder with a 300-mile district under his care.
He rescued 118 slaves, including his brother.
He helped build a 500-person freeman settlement, called Dawn, which was known as one of the final stops on the Underground Railroad.
Inspired by his story, Harriet Beecher Stowe wrote a novel that helped spark the Civil War and led to the Emancipation Proclamation.
But before all that, Josiah Henson was a slave for 42 years.
The film is called Redeeming Uncle Tom, and it's narrated by Danny Glover.
This Friday night, the Indiana State Museum's Levi & Catharine Coffin House is hosting an online digital screening of the film on Zoom. I'll be introducing the film and doing a director-led Q&A afterward.
Register: Right here
Cost: $8
Date: Friday Feb 18th
Time: 6:00-8:30PM EST
Zoom link
Meeting ID: 857 5744 1006
Passcode: 326677
See you there!