Sometimes important, well-conceived ideas do not at first succeed. But if they truly inspire, sooner or later the vision will be fulfilled.
Leonardo da Vinci was a Renaissance master, a student of almost every area of knowledge being practiced. A painter, architect, designer of war machines, statues and inveterate keeper of notebooks recording every area his curiosity took him.
In 1482 he was commissioned to create a bronze horse statue by the Duke of Milan to be a gift to the Duke's father, Francessco Sforza. The statue would be the largest ever cast requiring over 70 tons of bronze and standing 26 feet high.
Leonardo prepared by writing a treatise on horses' movements, their anatomy and how he might balance a figure in motion, with just two of the four legs on the ground. In 1493 he made a full size clay stature of his design. He developed a unique engineering process recorded in his notes. The statue was to be cast in two halves and then joined together.
Full details of the sculpture.
Unfortunately, his patron gave the bronze collected for the sculpture to the Italian defenders of the city of Milan after it was attacked by an invading French army. The Italians lost, the clay model was used for archery practice by the French, and subsequently destroyed by weathering.
End of Story?
No, 500 years later a United Airlines pilot and art collector Charles C. Dent read about Leonardo's vision in the September 1977 edition of National Geographic. He founded a non-profit to bring da Vinci's vision to reality for his hometown of Allentown, PA. He died before the vision could be realized. His nephew took over the foundation and hired an experienced animal sculptor, Nina Akuma, to explore da Vinci's drawings to create a fully realized instantiation. Two full size casts were made, one placed in Milan, Italy and the second commissioned by Frederik Meijer. (additional details)
It was this second horse I saw  on a visit to the Frederik Meijer Gardens and Sculpture Park in Grand Rapids, MI.
Although based on decades of Leonardo's artistic work, it is today named the American Horse. The sight is truly majestic with the entire bronze weight supported by only the two opposite hooves. Its monumental standing is accentuated by the grass and tree sheltered green amphitheater which it alone inhabits.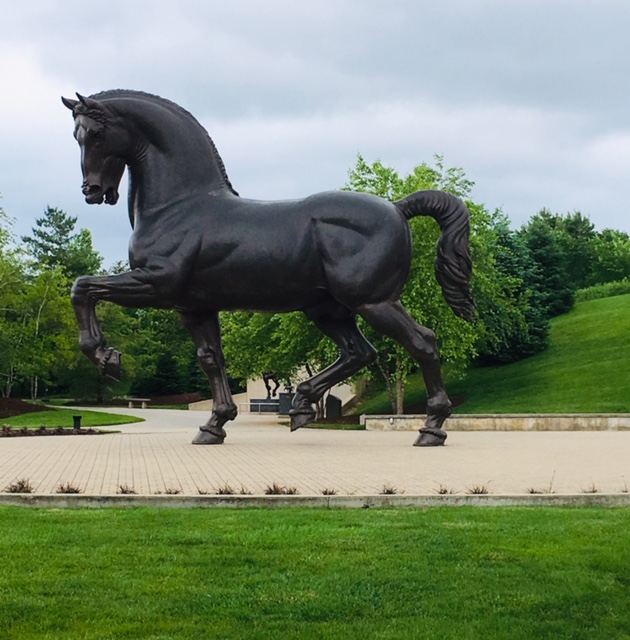 The Promise of a Vision
Today the credit union vision is just over a century old. There have been almost 50,000 state and federal charters issued, of which 4,950 are still active. The challenge as in the artistic effort to recreate Leonardo's horse, is what is core to the vision today? What is timeless in cooperative design  as it evolves in subsequent environments?
And is the design more than a single expression or does it require a "system" (as in Leonardo's workshop) to support individual credit unions?
The commission that inspired Leonardo's vision lasted long after its creator and sponsor left the scene. However the vision was so well conceived, that new artistic pioneers were motivated to fulfill the work, albeit in a contemporary context.
There is I believe a parallel with cooperative design. It is well conceived by founders, but requires contemporary architects  to ensure its relevance and sustainability for future generations.