No, not me, but a kindred spirit.
Oscar Perry Abello  is the Senior Economic Justice Correspondent for Next City.  I have reprinted excerpts of his stories about startup credit unions and other community financial firms, especially CDFI's. To find these just fill this blog's search function with "Oscar Abello."
In the following post he writes about withdrawing from his reporting job to write a book.
As you read his reasons, think about credit unions whenever he mentions "community banks" and their declining role in communities.  Ask whether cooperatives, in a similar manner,  are moving away from their core strengths?
His goal is to document the need for community focused financial institutions which he describes as "local fountains of money."  Here is his "mission' statement.
"The rumors are true.
"I'm going on book leave for the next few months. I'll be working on a book, under contract with nonprofit publishing house Island Press, that makes a case to take back the banking system for communities. It will build on a lot of the reporting I've done right here for Next City's newsletter The Bottom Line, especially over the past three years or so — quite an eventful period for the banking system, especially this year. . .
The Vital Issues or Just a Broken Record?
"Over the next few months, I'm looking forward to diving more deeply into questions like: What exactly is so different or special about a more locally-owned and locally-controlled banking system? What examples reveal how a renewed local banking system can avoid mistakes of the past and present? And what policy reforms or other changes help tilt the playing field back in favor of community banks or credit unions?
"As readers of this newsletter, you may recall one of the increasingly frequent occasions I've taken to mention in my reporting that there were 15,000 community banks holding 37% of banking industry assets in 1985, the year I was born.  Today there are just 4,200 community banks holding 11% of banking industry assets. If we've had the great fortune of sharing a conversation in person or during a webinar over these past few years, I've probably brought it up somehow. Sometimes I worry I'm starting to sound like a broken record about it. 
"I just haven't been able to stop thinking about this set of facts — that there were so many community banks across this country within my own lifetime, and that we allowed so many of them to get swallowed up by bigger banks. A few years back, I came across this stunning graphic from the FDIC, showing how the four largest banks as of 2011 gobbled up a bunch of smaller banks over the decades leading up to that point.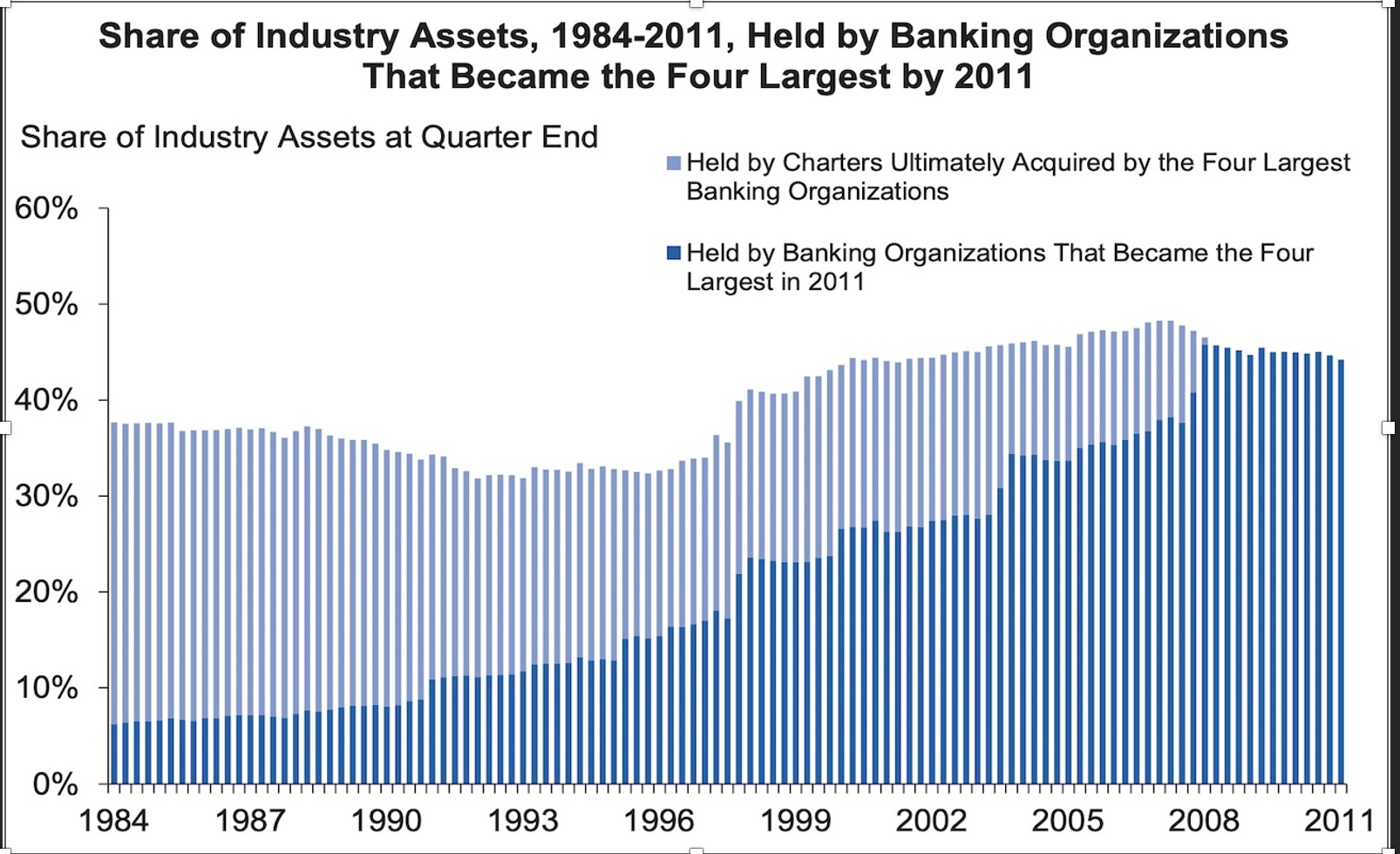 "Maybe it's a journalist thing. Follow the money, as they say. 
"Most of us, including most bankers, think of banking as taking deposits and lending them back out to borrowers. In some ways there is some truth to that idea, but it turns out if you follow the money all the way to its original source, 92% of money comes into existence as the result of a bank making a loan. So says a recent working paper co-authored by an economist at the Federal Reserve Bank of Philadelphia. Here's the International Monetary Fund saying the same thing in 2016, the Bank of England in 2014, members of U.S. Congress in 1964, and economist Joseph Schumpeter (posthumously) in 1954.
Local "Fountains of Money"
"So think about it this way: In 1985, there were 15,000 money-creating local institutions. They were — and still are — often deeply flawed. Nearly all of them were guilty of redlining at some point in their history if not still at the time. Remember, women couldn't open a bank account or get a loan without a husband or male relative's signature until 1974. But even with those flaws, each community bank functioned as a local fountain of money. 
"Is today's consolidated banking system an effective substitute for the 11,000 community banks that no longer exist? The Paycheck Protection Program debacle powerfully demonstrated the shortcomings of today's banking system, as big banks initially struggled to reach the smaller businesses that were most urgently in need at the start of the pandemic. 
The Ongoing Need
"I don't intend to wax too nostalgic about the community banks we've lost. Taking back the banking system must not look exactly as it did before. Lately there's been another set of facts that grows larger and larger in my mind every day: Even after decades of consolidation, there are still 4,200 community banks out there. But how many community banks are also minority depository institutions, or MDIs, meaning they are owned or led by people of one or more racial minorities and primarily serve those communities? Just 122.
"Simply put, across the entire country there are 4,078 community banks serving primarily white communities, while just 122 community banks serve primarily communities of color. Of course, it's much more likely today than it was in decades past for white-owned community banks to do business with people of color, but recent research has revealed the continued starkness of the divide.
"Banks still tend to locate their branches in neighborhoods whose residents look like their leadership or ownership, according to a joint analysisby researchers at Johns Hopkins University and the National Bankers Association, a national trade association for MDIs.
"Any effort to take back the banking system for communities has to take it back for the country we are becoming, not the country we were.
"So how many community banks do we need? I'm not sure that me or some policymaker or expert should be the one answering that question. Maybe it should be up to each community that feels ignored or frustrated with larger, distant financial institutions to take some of that money creation power for themselves and see how they do with it.
"I've been reporting on recent examples of communities taking that power for themselves. My hope is for this book to help the people in those and future examples to feel connected and properly informed about what's at stake and why efforts like these are so important to the future of our cities, this country, and the planet. Look out for it in your local bookstore (tentatively) in Fall 2024."