In talking with a retired CEO who still follows credit union events, I asked how his perspective had changed.
"I don't feel the intensity or nuances from the grind of the day to day.  . . or the tactical lust for short term passions."
Without an organization's boundaries, the retiree tends to be more observant of general trends.
An example of this capability is John Tippets,  who retired as CEO of American Airlines FCU in the first decade of this century.  In retirement he continued to consult in strategic planning sessions and speak at credit union events. During the 2008/9 financial crisis he was the interim CEO for three years at the troubled North Island Credit Union, which he saved from a regulatory closure.
Before his credit union roles John spent about 25 years in the for-profit world of American Airlines.  Most of that time he was an Officer with Sky Chefs, an American airport restaurant and concessions, and airline catering, subsidiary.
He has had multiple retirements and career involvements.  He and his wife Bonnie have written a book, Hearts of Courage published in 2008, the story of his father's survival from a plane crash in Alaska in 1943. The story behind the book is in this 2009 article.
There have been two CEO's since John at the credit union. The airline sponsor has gone through much turmoil including bankruptcy, mergers and leadership changes.  The relationship of the credit union and its sponsor has continued strong even through numerous board changes.
The one strategic change John made as CEO was to take advantage of the TIP field of membership option.  This permitted the personnel of other employers, co-workers at the airports, to become members of AAFCU. Airports in many ways became the credit union's communities.
Speaking on Leadership
A favorite topic for John is his Principles of Leadership which he developed into a 50 slide presentation to the Aerospace conference in 2018.
The speech summarized his multiple professional and personal interests in a diagram similar to the UCLA basketball coach John Wooden's nine principles of leadership.  Here is John's organizational template using a similar framework for credit unions.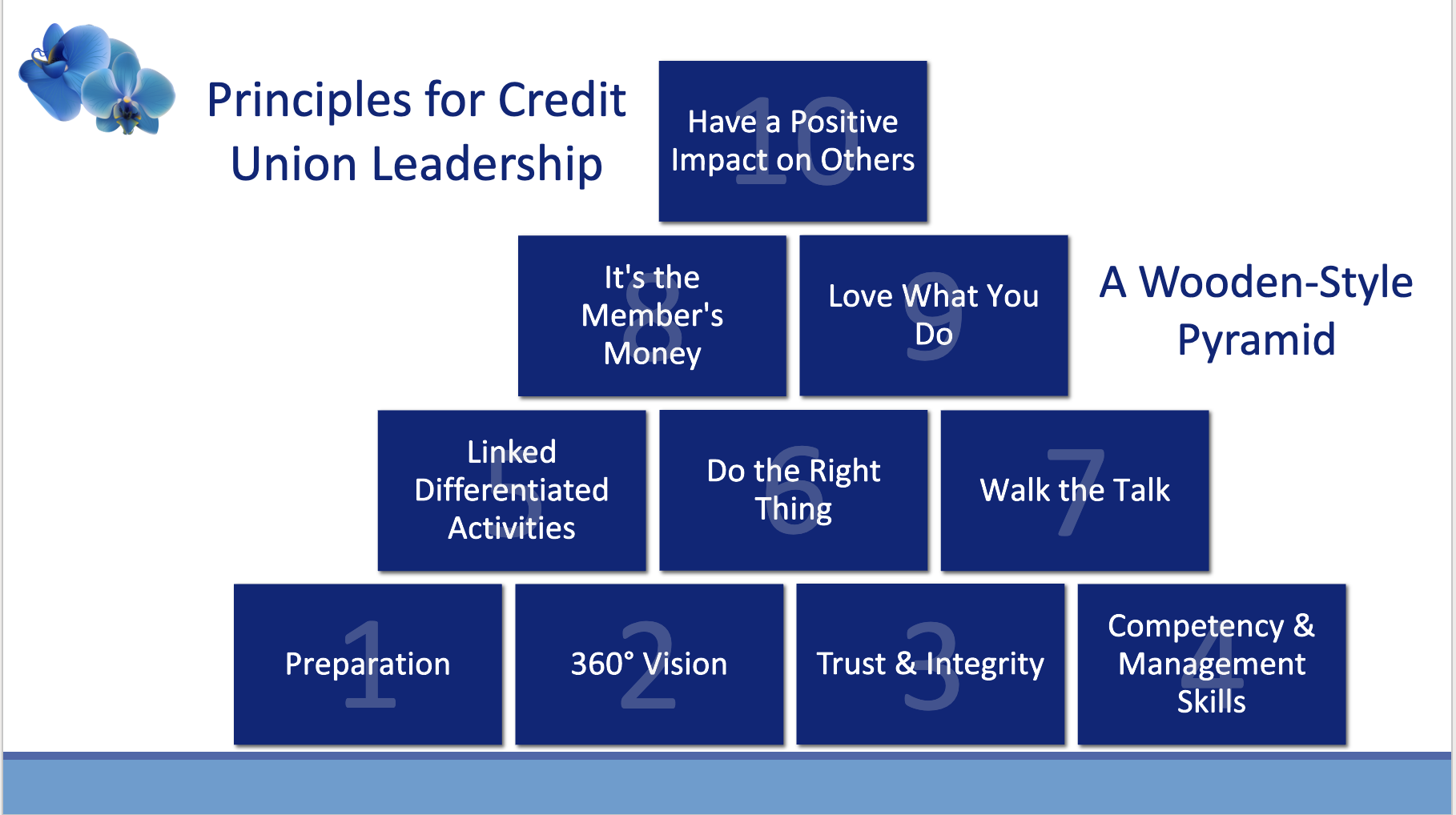 The slides develop each of the nine points using examples from his numerous life experiences.  The speech summarizes his approach to leadership.  It also characterizes how he sees meaning in his multiple organizational and personal responsibilities.
The Underutilized Resource
John is now working on a book about his 25 years in credit unions.   His activities are just one of multiple examples of credit union leaders who have stepped down but continue to follow credit union events.  For many, these professional years are the most satisfying responsibility they have had.
Look around.  There are examples of professional experiences and resources in every community, often like John, willing to provide perspective and an occasional assist.   They see the world differently, often with more clarity than incumbents might assume.
And sometimes they are even delightful guests for the board, employees and members to hear from when those occasions arise.
In his book, John talks about his father's  recounting his story to youth leaders.  Joseph would encourage them to keep teaching the lessons, because even though they might not seem to care, "kids are hearing and someday they may really, really appreciate what they learned."
Life stories are not just for kids. For the past is never past, but always present.