Lincoln's meditation on Divine Will September 2, 1861.
The Civil War was not going well.  There had been a second Union defeat at the battle of Bull Run.  He became depressed.   These are thoughts written to himself found in John Hay's papers.
The will of God prevails.  In great contests each party claims to act in accordance with the will of God.  Both may be, and one must be wrong.  God cannot be for, and against the same thing at the same time. 
In the present civil war it is quite possible that God's purpose is something different from the purpose of either party—and yet the human instrumentalities, working just as they do, are of the best adaptation to effect his purpose  I am almost ready to say this is probably true—that God wills this contest, and wills that it shall not end yet.  By his mere quiet power, on the minds of the now contestants.
He could have either saved or destroyed he Union without a human contest.  And having begun, He could give final victory either side any day.  Yet the contest proceeds.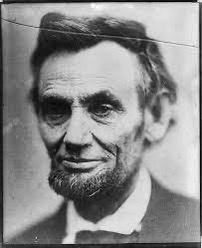 Editor's comment:
This excerpt is  from a lecture by Dr. Ronald C. White (BA, UCLA; PhD Princeton University) an independent scholar and authority on Abraham Lincoln. He is the author of Lincoln in Private: What His Most Personal Reflections Tell Us about Our Greatest President.
His book is based on 111 private notes Lincoln wrote to himself which provide insights  into his personal, religious and  intellectual journey as a politician and statesmen. 
Lincoln's words are timeless, especially as we face  our political divisions today.  They were transformative when first prepared.  They feel even more relevant today.
Ronald White's complete lecture can be heard here.