(Note:  the next three blogs were inspired by attending my 60th high school reunion in June.  For most Americans, these years are the most widely shared common participations  of our lives. These posts are a perspective on their influence  later in life.)
The teenage high school years are times of ever-expanding new life experiences.  However it may take decades before one understands the significance of these happenings as an adult.
Would attending my 60th high school reunion in Rensselaer, Indiana be worth the time and effort?  I was in RHS only 2 ½ years there before  transferring to Springfield, Il in the middle of my junior year when my Dad took a new job in the town in which he grew up.
I'd probably not recognize anyone.  Had kept in touch with just two classmates. The only planned group event was a Saturday evening meal, with many whom I would be meeting for the "first time."  Would this just be a nostalgia trip?
After the weekend, one classmate shared a note which characterized her feelings.  Even though my time in Rensselaer was much shorter at five years, her words also captured my experience:
The 60th anniversary milestone caused me to reflect on the blessings of the first 18 years of my life.  My family, friends, schools, church and community provided a sense of security and belonging that I never questioned or doubted. The emphasis on self-discipline, hard work, integrity, wise choices and faith provided a solid foundation on which my whole life has been built.  I am so  grateful that I was–and always will be–an Indiana farm girl.  
Rensselaer in Perspective
The reunion  reminded me that who we are today is deeply influenced by where we came from.  It also called attention to why the cooperative model's roots were first planted in farming communities across America.
Rensselaer is a farming town, the county seat of Jasper County.   On google maps, It is 84 miles from Chicago. It was sufficiently remote and lacking  big city attractions that Chicago Bear's owner George Halas held the team's summer training camp at St. Joseph's College in Rensselaer from 1944-1974.  The athletes ate in a basement cafeteria under the campus' large chapel building.  There were strict curfews.  Nothing to distract.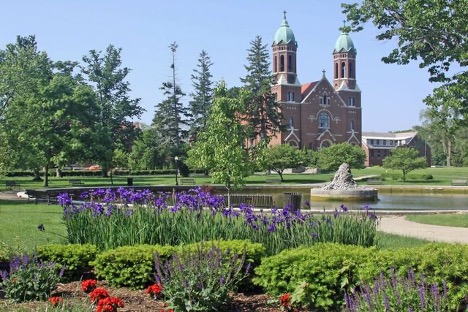 The College was founded in 1889 but due to financial deficits was closed in 2017.  The campus is intact today waiting for its next evolution.
St. Joe's chapel  bell  still rings each quarter hour. Cornfields bind the college on three sides while the sports grounds on the campus' south side snuggled up next to the parking lot for the town's bowling  alley.
The Town's Foundation
Rensselaer's economic base is agriculture.  Farming requires patience; nature can't be hurried.  Results accrue from persistence and hard labor.  Time is measured daily from sunup to sun down. The  changing seasons mark the longer passages of time.
Rensselaer is the country seat for Jasper County which had a negative .2% population growth over the last decade.  In contrast the US population increased 6.5% and Indiana's 4.1%.
The town's  population is just over 6,000. In the 2020 census, the county's population is 91.2% white (non-Hispanic) and the demographic group increasing the most  is Hispanic/Latino which comprise 6% of the population.
That probably explains why there are now four Mexican restaurants in town versus none when I visited ten years earlier for the 50th reunion.
One even featured a mural of Mexican artist Frida Kahol on the inside of a newly opened restaurant.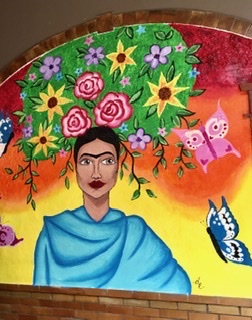 Farming is the Priority
Several new businesses have opened in the town in the last decade, but farming is still the economic foundation.
The largest non-farm related businesses/employers opened after 2000 and include:
Franciscan Healthcare
Sealy Mattress Corp
Talbert Manufacturing Inc
Donaldson Co
Conagra Foods
Rensselaer Care Center
Walmart
Businesses are hiring.  Conagra's Orville Redenbacher popcorn facility is looking for people by offering $20-$34 per hour, a 9% 401 K match, paid maternity leave, gym membership and a $1,500 perfect attendance bonus.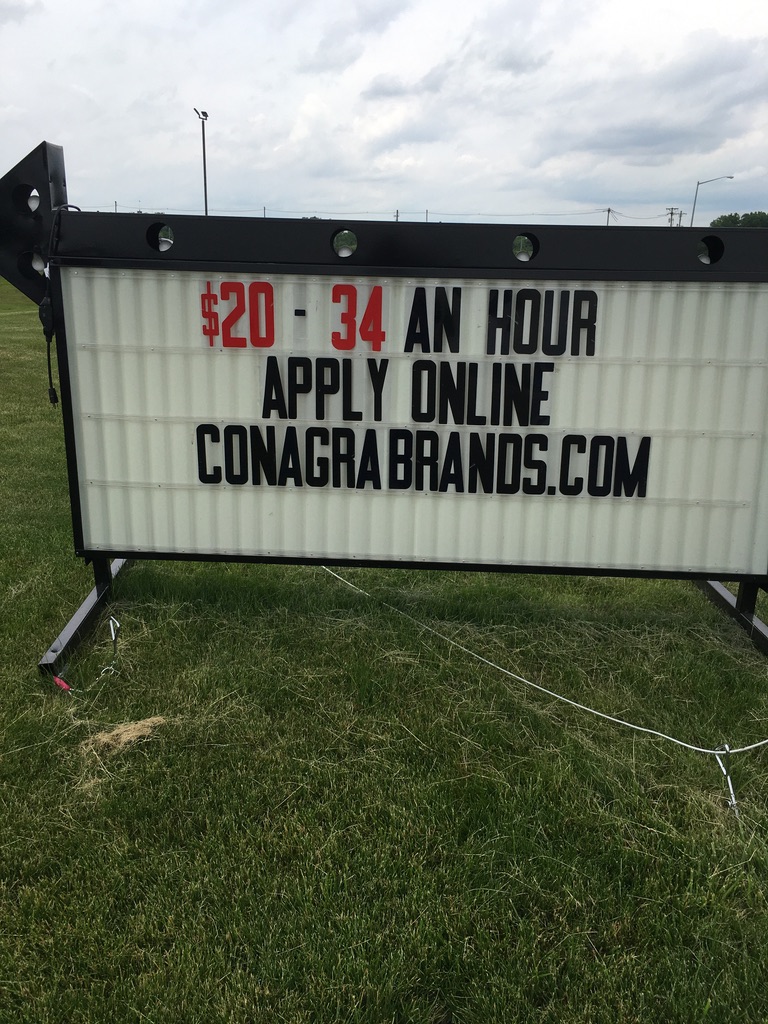 McDonalds is aggressively seeking help with the slogan We Need YOU and starting pay of $12 per hour.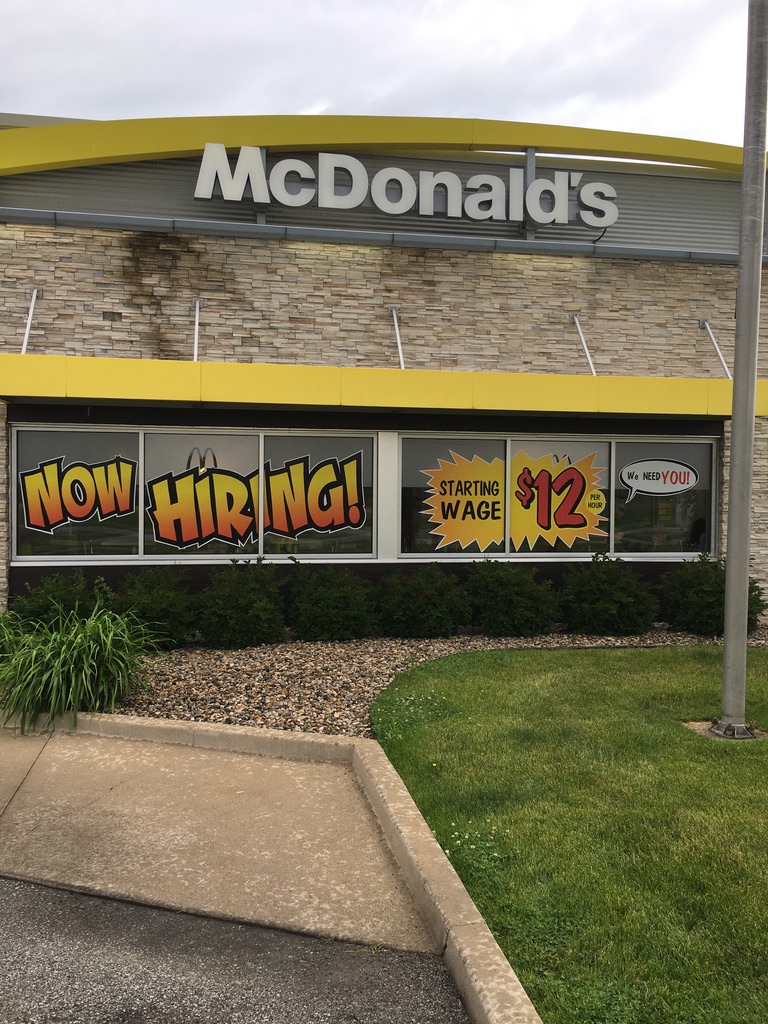 Five banks have branch offices in Rensselaer.  First Trust Credit Union had a branch but closed it ten years ago.  Their former office now houses the town's bakery.   The five banks'  total deposits  as of June 2021 were  $363 million, a 16% increase over the prior twelve months.
The High School Experience
My 1962 high school class graduated 106.  Six decades later the high school's 2022 senior class was just one more.  Becoming bigger is not a primary goal of the community.
High school is the most widely followed experience in town.
The old high school building  is gone, replaced by a new single level sprawling campus surrounded by  multiple sports fields and courts on the edge of  town.
Sports are a major high school commitment with ten boy's and girl's teams. In my one varsity junior year there were just three boy's sports (track, basketball, and football) and  no girl's teams.
Today there is a full-time athletic director but most of the coaches are part time, with jobs outside the school system. In the last three years two RHS girls placed first in the state's track meet in shot put. The boy's football team won the state championship for division 2 (the next smallest out of 6 divisions) in 2014.
The school produced two plays this past year, the musical Princess Ida and a Shakespeare production.  The seniors in the art class are able to paint and attach their work to the ceiling tiles around the school.  They can paint their own spaces in the car parking lot.  But no painted senior cords, the tradition in my era.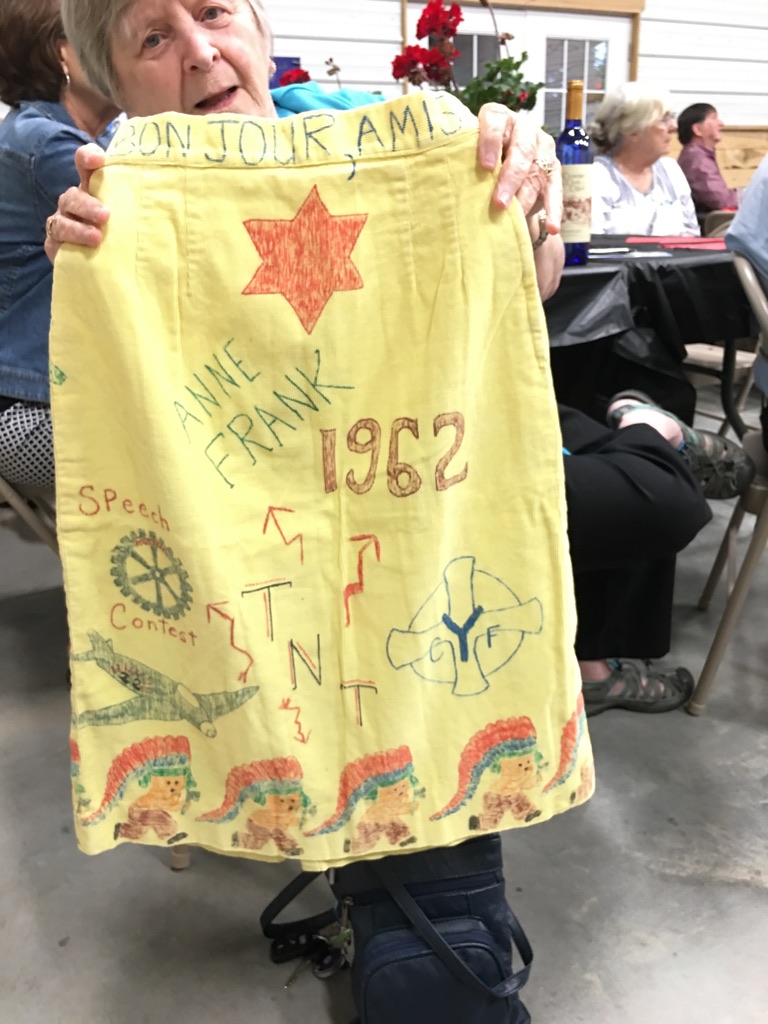 Instead of Latin, Spanish is now the  foreign  language option. Classes are offered for future farmers and  technical trades including welding .  The welding course was over subscribed so the school installed  two more stations for the class. These students can walk right into local jobs one teacher said.  Between 80-90% of seniors go on to further education.
.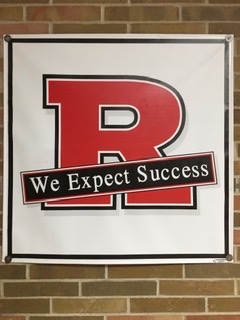 Religion and Politics
Religious options continue to expand in the community, both longstanding and new denominations.  Twenty three churches are listed for Rensselaer in the Worship Guide of the local advertising  handout.
My dad was minister at the First Presbyterian Church which is celebrating its 175 anniversary this year but is trying to find a full time pastor.  The church yard contains the family grave for the person after whom the town is named:  James Van Rensselaer.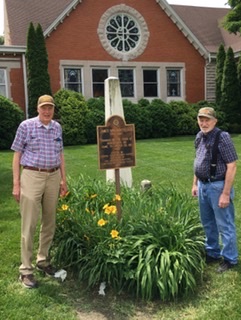 Rensselaer had two local newspapers in my era.  The six-day afternoon local paper was called the Rensselaer Republican.   The weekly was the Jasper County Democrat.  The Republican is now a once-a-week publication covering multiple towns and counties across northern Indiana.  The Democrat no longer exists.
In the 2020 Presidential election Trump received 74%  and Biden 25% of the vote in Jasper County.  Statewide the totals were closer: 57% to 41%
The town's most famous politician was Charlie Halleck who served  in Congress from 1935-1969 and was House Minority leader from  1959 to 1964.  He gave a speech nominating Wendell Willkie, a fellow Hoosier,  as the Republican candidate in 1940.  In 1948 he was thought to be a vice presidential option for Thomas Dewey who instead chose governor Earl Warren of California as his running mate.
As House Minority leader Halleck would partner with Senate Minority leader Everitt Dirksen to become the Washington face of the Republican party in their news  conferences called the Ev and Charlie Show.   Halleck opposed the social liberal programs of the democrats.  But supported the Vietnam War and the several Civil and Voting rights Acts of the 50's and 60's.
Conservative  Shared Values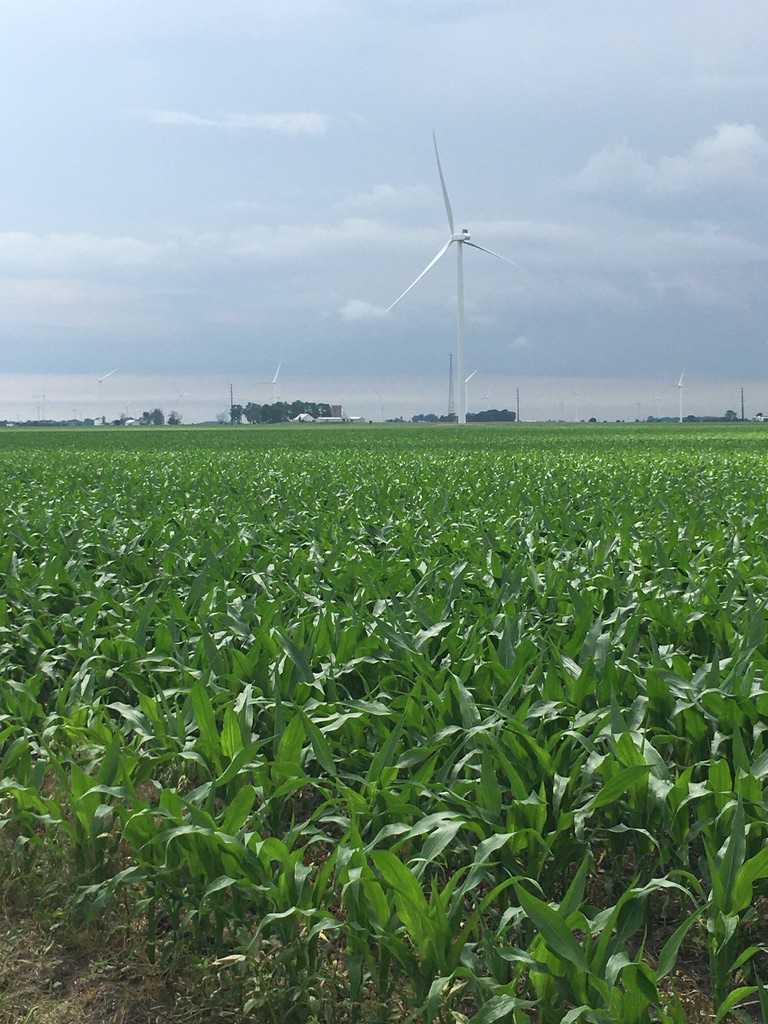 Even as wind turbines now add a new source for farm income and new businesses open in town, change occurs slowly.  Making a living from the land  is for most farmers a lifelong commitment to a place.
Tradition matters. Summer events include tractor pull contests, vacation bible school (VBS), family picnics in the covered park shelters, summer plays (The 25th Annual Putnam County Spelling Bee), baseball and a full schedule of public library events.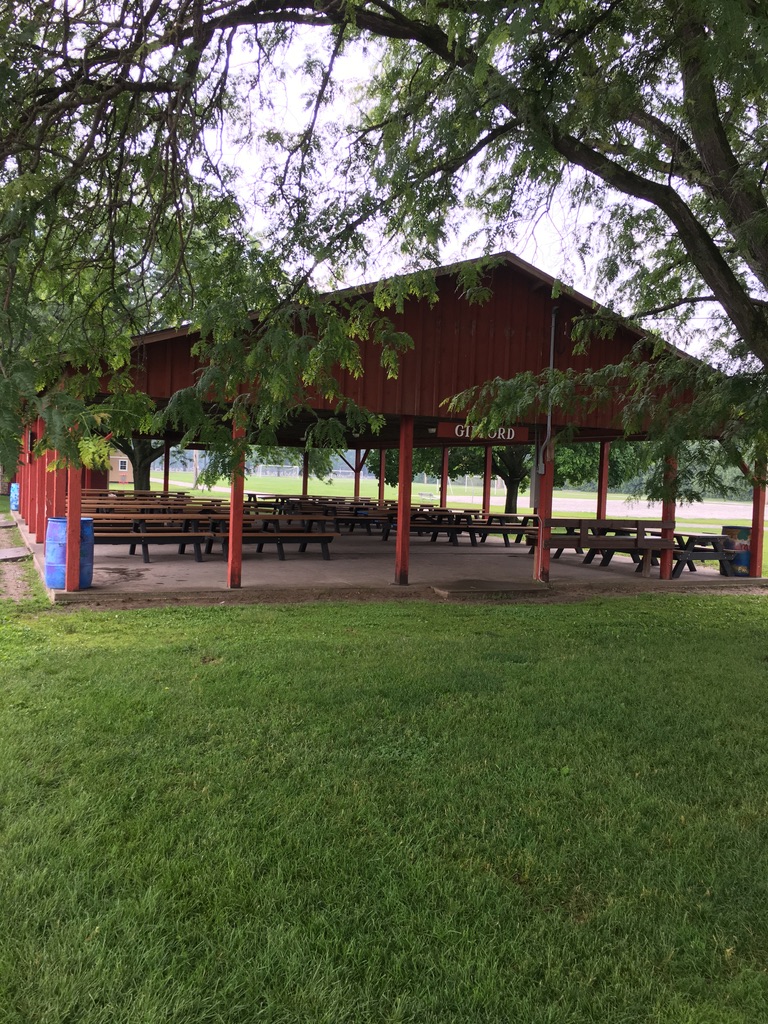 Following Its Own Time Line
Indiana is divided into two time zones.  Rensselaer is part of the northwestern counties that follow central time.  The rest of the state and most big cities are on EDT.
Farming shapes the pace of change.  Work flows with the seasons. Planting crops is a partnership with nature.  It is not a manufacturing process to produce  a product.
Nature's output is at a different rhythm than the speed of the modern Internet economy.  Growth must be nurtured and is always subject to forces outside one's control.
This timeless human endeavor creates respect for the land and those who depend on it. Values of endurance and resilience are essential.  Results come from consistency, not scaling up or being first to market.
Farming creates community through a shared destiny.  For many farmers it is a multi-generational ambition. Their fondest  hope is that their children will take over the family business.  The You-Only-Live-Once (YOLO) mindset is contrary to the deepest instincts of farmers.
This conservative temperament is not limited to farming.  It can be a foundation for a well-served life  in any occupation or place. That I believe is what my classmate meant when writing she was glad to have been an Indiana farm girl.
In following articles, I will share an unusual public mural art effort in Rensselaer and visit the Saturday Farmer's market.  Both capture the town's enduring spirit.  And why it survives.
A 60th RHS reunion after dinner photo: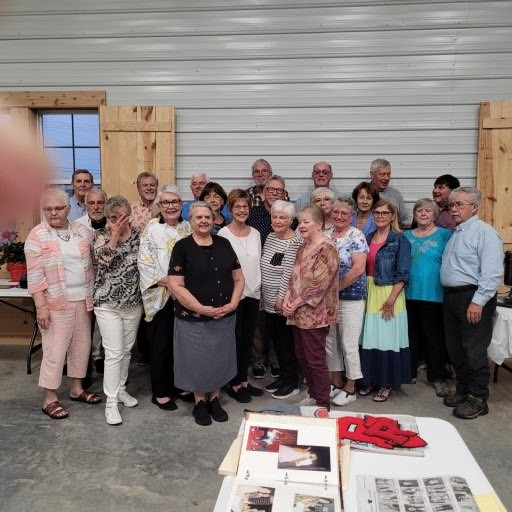 My best high school friend was Dale Garriotte.  We shared sports together, delivered  newspapers on our bikes and both ended up in the Navy.
Chip and Dale in 1961 during Easter weekend finishing up our junior year.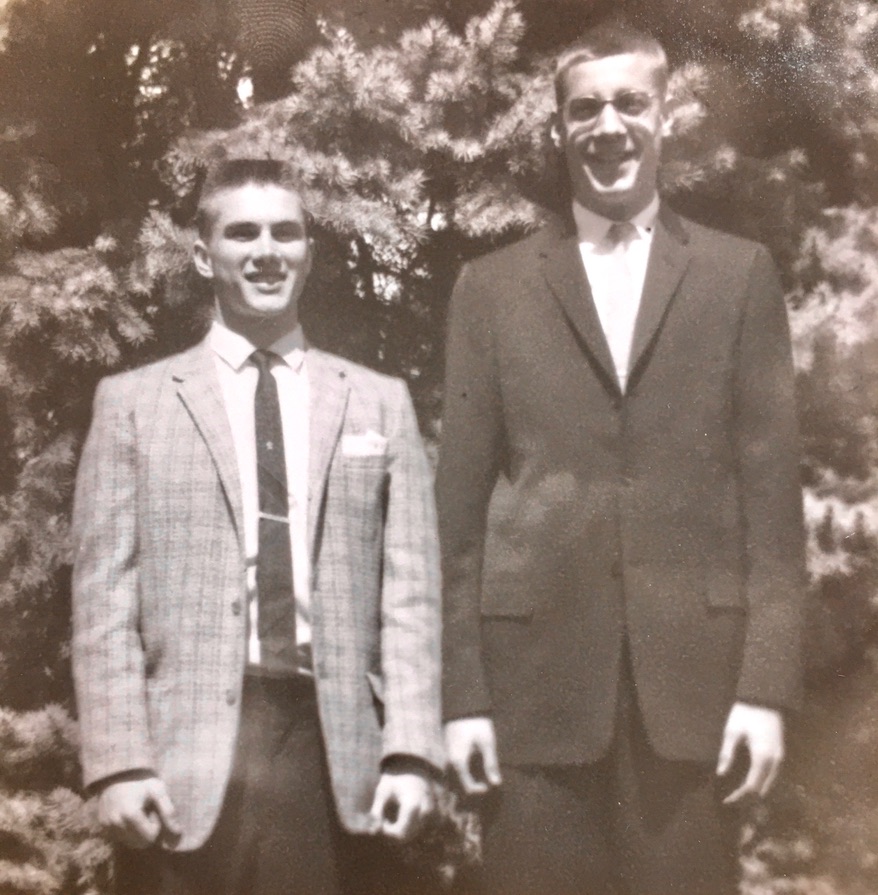 Chip and Dale at the 60th RHS reunion: