Last Saturday, March 12,  was the 100th anniversary of American novelist Jack Kerouac's birth in Lowell, MA.  He was an alter boy and member of St Jean Baptiste Church.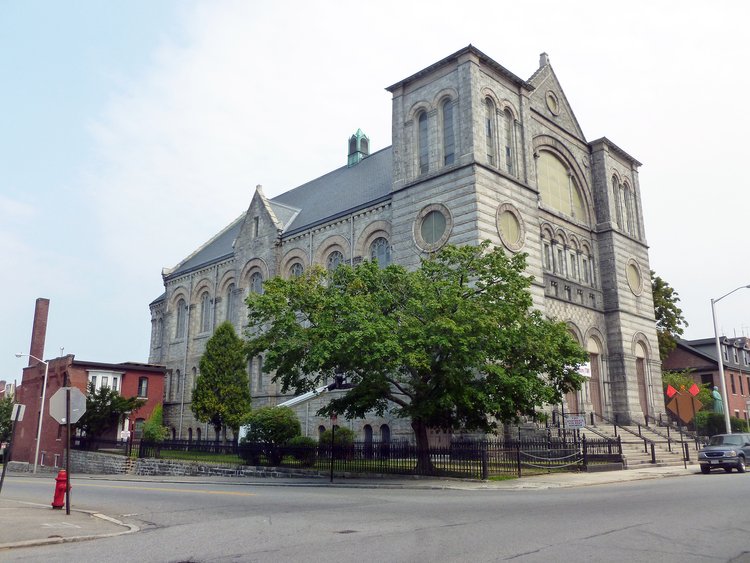 He and his family were also members of the credit union whose first office was in the same church.   Jeanne D'Arc Credit Union was organized years earlier  by the local priest.
In February 2022 Jeanne D'Arc celebrated its 110 anniversary.  The credit union's safe is still in the church building.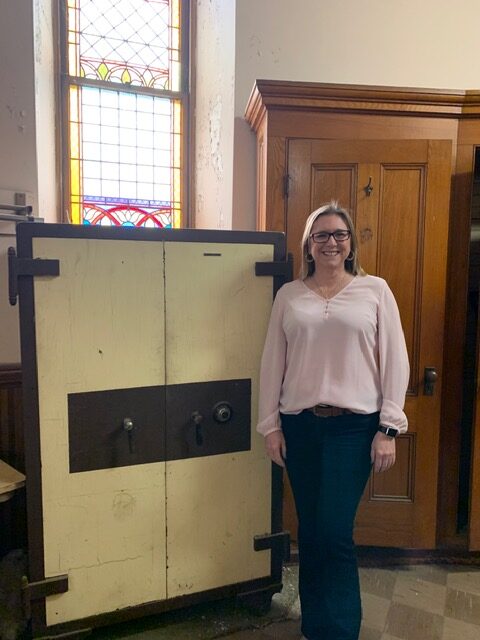 Alison Hughes, Jeanne D'Arc Credit Union
The church is now closed, but the building remains. The credit union and a new community foundation are transforming the structure to become the Jack Kerouac museum and performance center.
It is an ironic embrace for Kerouac whose peripatetic lifestyle is characterized as offbeat. His artistic legacy now has a home.  A venue both to honor the past and present his continuing popular appeal.
Jeanne D'Arc and Lowell are reaffirming the power of Kerouac's roots.
The credit union and Kerouac started  in the same sacred place.   Both shared common purpose to  support individuals  in all their diversity.
In this latest contribution, Jeanne D'Arc is adding to its ever-expanding legacy in the community by honoring one of its members.  A conversion of an historical  space into a homecoming for someone most remembered for exploring life on the road.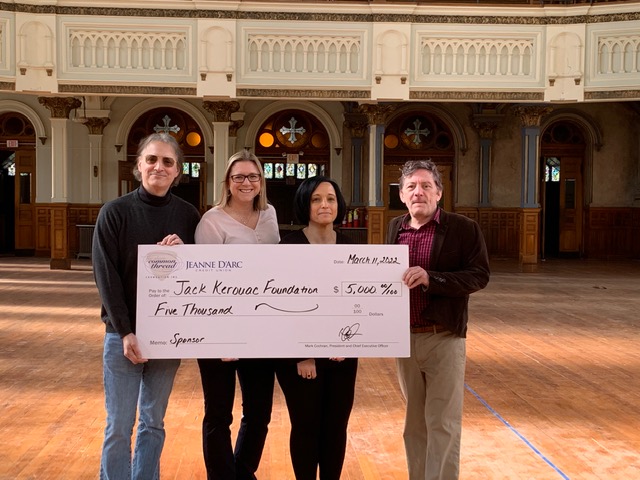 Christopher Porter, President. Jack Kerouac Foundation
Alison Hughes. Jeanne D'Arc Credit Union
Sylvia Cuhna, Executive Director, Foundation
Jim Sampras, CEO. Foundation
 Kerouac's Lowell Roots
Jean-Louis Lebris de Kérouac[1]  March 12, 1922 – October 21, 1969), known as Jack Kerouac, grew up in Lowell, played high school football well enough that major colleges recruited him. Church and family were deeply embedded values even though his later lifestyle might be considered bohemian.  
 His parents were French Canadian;  Kerouac did not begin to learn English until he was six, and remained bilingual in his work.
A 1959 television interview with Steve Allen in which Kerouac briefly  reads from On the Road is a helpful portrait of him at a peak of his fame as a member of the  Beat generation.
Three Appraisals of Kerouac's Work
His 100th anniversary has resulted in articles that take different views of his literary output and continuing relevance.
An article in the Guardian newspaper explores why his counter-cultural mage still resonates in contemporary society, calling him a symbol whose meaning is still not understood. "Nature-loving mystic or proto-dudebro? Untameable free spirit or reclusive mama's boy? On the centenary of his birth, it is time to look past the icon at the 'bleeding ball of contradictions' behind it."
The Wall Street Journal's tribute celebrates his reverence for the natural world while his  characters want to abandon traditional social constraints.
Jack Kerouac lives in pop culture memory as a writer on a perpetual road trip, a shooting star riding the highways and rails of postwar America alight with Catholic mysticism, booze, bebop and outlaw liberation. That's the milieu of his breakout novel "On the Road," a masterpiece of widescreen travel writing populated by eccentrics "who are mad to live, mad to talk, mad to be saved, desirous of everything at the same time…who never yawn or say a commonplace thing, but burn, burn, burn like fabulous yellow roman candles. . . "
In our time of ecological destruction and climate change, Kerouac's Buddhist observation in "The Dharma Bums" that "One man practicing kindness in the wilderness is worth all the temples in the world" is a fine starting point for understanding that there really is a divine order to the natural world."
An article on the Poetry Foundation's website summarizes his literary output while alive and published posthumously, along with critical and public reaction of his counter cultural  themes.
Why Kerouac Still Resonates
Wikipedia's describes his work as both stylistically and substantively inventive:
Kerouac is recognized for his style of spontaneous prose. Thematically, his work covers topics such as his Catholic spirituality, jazz, travel, promiscuity, life in New York City, Buddhism, drugs, and poverty. He became an underground celebrity and, with other Beats, a progenitor of the hippie movement, although he remained antagonistic toward some of its politically radical elements.
In 1969, at age 47, Kerouac died from an abdominal hemorrhage caused by a lifetime of heavy drinking. Since then, his literary prestige has grown, and previously unseen works have been published.
"Kerouac completed what is known as On the Road in April 1951, while living at 454 West 20th Street in Manhattan with his second wife, Joan Haverty.[39] The book was largely autobiographical and describes Kerouac's road-trip adventures across the United States and Mexico with Neal Cassady in the late 40s and early 50s, as well as his relationships with other Beat writers and friends.
"Kerouac wrote the final draft in 20 days, with Joan, his wife, supplying him with benzedrine, cigarettes, bowls of pea soup, and mugs of coffee to keep him going.[
" Kerouac said that On the Road "was really a story about two Catholic buddies roaming the country in search of God. And we found him. I found him in the sky, in Market Street San Francisco (those 2 visions), and Dean (Neal) had God sweating out of his forehead all the way. THERE IS NO OTHER WAY OUT FOR THE HOLY MAN: HE MUST SWEAT FOR GOD. And once he has found Him, the Godhood of God is forever Established and really must not be spoken about." 
"According to his biographer, historian Douglas Brinkley, On the Road has been misinterpreted as a tale of companions out looking for kicks, but the most important thing to comprehend is that Kerouac was an American Catholic author – for example, virtually every page of his diary bore a sketch of a crucifix, a prayer, or an appeal to Christ to be forgiven.[44]
"Kerouac's literary works had a major impact on the popular rock music of the 1960s. Artists including Bob Dylan, The Beatles, Patti Smith, Tom Waits, The Grateful Dead, and The Doors all credit Kerouac as a significant influence on their music and lifestyles."
The early home to both Jeanne D'Arc and Kerouac will now be used to ensure that his literary light continues to inspire.