Recreational Equipment, Inc., or REI, is an American retail and outdoor recreation services corporation. Founded in 1938 in Seattle, Washington as a consumer's co-operative, REI sells sporting goods, camping gear, travel equipment and clothing.
REI operates 146 retail stores in 39 states plus DC. In addition to its products, it also offers services such as bike maintenance and outdoor-themed vacations and courses.
This is the announcement upon entering the store: reminding members they belong to a coop: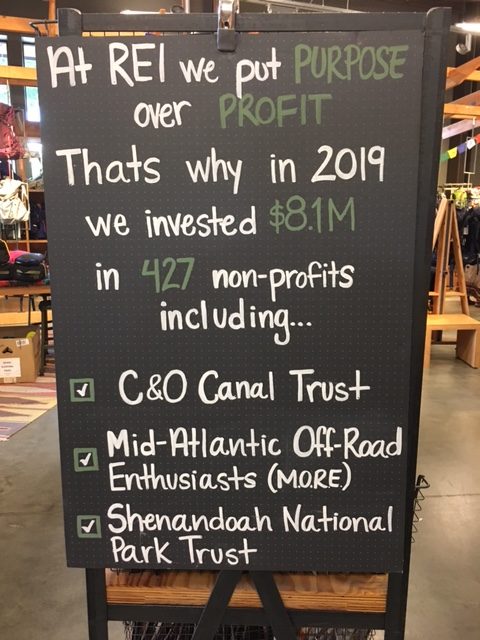 Membership Fee and Equity
REI's annual revenue for 2020 was $2.75 billion. The co-op lost money in 2020 as stores closed during the pandemic but ended the year with $2.3 billion in total assets and $990 million in reserves. By adding 1 million new members the membership fee portion of equity increased by over $18 million to a total of $331 million. This annual addition to permanent capital partially offset the $34 million 2020 operating loss.
REI defines active members as persons who paid a $20 lifetime membership fee and purchase $10 or more of merchandise in a given calendar year. Each active member is entitled to vote for members of the company's board of directors.
The annual patronage dividend is normally equal to 10% of what a member spent at REI on regular-priced merchandise in the prior year. None was paid in 2020 due to the operating loss.
Online Community and Executive Compensation Models
The company's online community notes that 24,313 members have engaged in 31,629 conversations. These dialogues are intended to "connect, learn, share and inspire members to get outside!"
REI employs over 11,000 people and has been ranked in the top 100 Companies to Work For in the United States by Fortune since 1985. Its disclosure of executive compensation could be a model for credit unions. The seven page document outlines both the pay evaluation steps and full details of all remuneration. The 2020 report shows that top executives received no annual incentive and took substantial pay reductions compared with prior years.
What a Credit Union Might Teach REI
As I left the store I picked up REI's branded credit card application that "co-op members love." One feature promotes REI's values on the environment and conservation by donating 10 cents for every transaction, up to $1 million, to the REI Cooperative Action Fund. Members receive 5% back on all REI purchases and 1% back on all other transactions.
Interest rates on outstanding card balances are variable: 11.49% to 23.49%; cash advances have an APR of 23.99% plus a 4% fee with a $5 minimum. Convenience checks charge 3% of the draft amount; the balance transfer fee is 3% and the minimum interest in any month is $2.
Who issues the card? US Bank, a $530 billion bank with a .93 ROA in 2020. It would appear that a partnership with a credit union card issuer could provide members better rates. For REI this would also be an example of the cooperative value of working with other coops.
Anyone interested?