Going to college in the Boston area in the '60s meant following the Boston Celtics. They were the dominant team in the NBA led by coaching legend Red Auerbach. Near the end of yet another Celtic victory, he would light up a cigar to celebrate the win, before the game was even over.
When he retired the critical decision was who could follow this extraordinary leader. Management chose Bill Russell, the team's center, to be a player-coach. An unusual and risky option.
Russell was a five-time NBA Most Valuable Player and a 12-time All-Star. As the centerpiece of the Celtics dynasty, the team won eleven NBA championships during his 13-year career. In his three-seasons (1966–69) as player-coach he become the first black coach in American professional sports and the first to win a championship.
To perform both leadership roles well requires not just a superb athlete, but unusual awareness of the team and game's multiple dynamics. During a season as a member of a military basketball team for the Naval Supply Depot in Yokosuka, Japan, I volunteered to do both roles when our coach was away on temporary duty. At halftime the best player on the team took me aside and said, "Chip, you can play or coach, but you can't do both." My brief Russell-like imitation effort was over.
The Player-Coach dual role was a perfect fit for Rex Johnson. As CEO he repeatedly proved he could perform at the highest levels of lending keeping Baxter at an 85% or greater, loan-to-share ratio. As a consultant, he taught (coached) thousands of credit union loan officers and managers the art of lending using their own institution's examples.
The Case Study-The Core of His Teaching Method
The following example "Who Will Trust Me?" is from Rex's book More Passion for Lending. It demonstrates his skill as a loan manager-"player." From this experience he developed specific lessons on  the art of sound loan decisioning. Here's the case.
Just Starting Out-Who Will Trust Me?
"To illustrate that lending is based on judgment, not formulas, let's review the case of a young, first time borrower.
On the application, we learn that Doug is nineteen and is just starting out on his own. He has been a member of the credit union for two years. His parents are also members.
Doug wants to buy a new Chevy truck and finance the $10,500 loan in his name only. He is just beginning his first real job, and has no credit history, and might well ask, "Who will trust me?"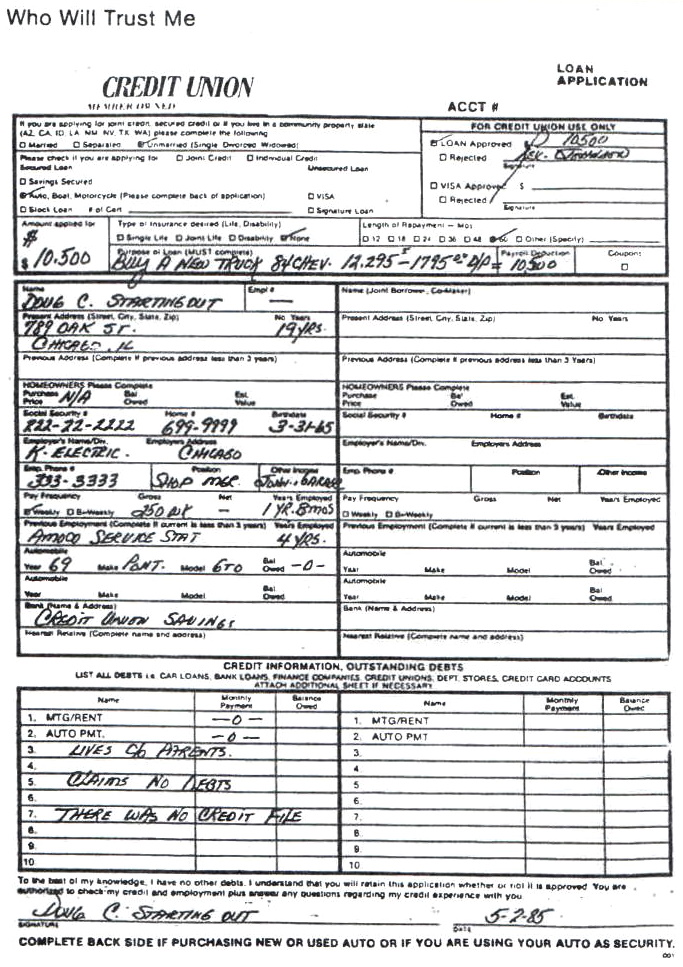 That's a good question. You could see a lot of reasons for turning Doug down, or require his parents to co-sign:
lack of credit history;

short time employment;

no credit bureau report;

no real assets.
Every situation is different. There are 19- and 20-year-olds who may be excellent credit risks. When Doug applied for the loan, some of the things you should have liked were:
He saved his money and was paying $1,795 down on the new truck;

He had worked all through high school and although he is not going to college, he did want to learn a skill;

The credit union will have a 100% secured loan;

The credit union knows the family; and

There is good stability-Doug has lived at the same address in an established area for nineteen years.
When the application was taken, the credit union learned the following:
Doug had enrolled in a trade school for four years to learn to be an electrician. Doug is good with his hands. His employer allows him to work full-time while going to school; and,

Doug had completely restored a 1969 Pontiac GTO. It looks as good as new, and Doug wants the truck to haul it to car shows. The GTO has a value of $12,000.
If you are looking for a way to make loans, sometimes it is vital to take time to develop the application by asking the right questions. The new information above made the loan application much stronger. Developing an application is an art that can be taught.
Doug is not going to college. However, he is a very industrious young man. Based on this information, the credit union made the loan three years ago without the benefit of payroll deductions.
Doug has only two years left on his loan. He has never missed a payment. He is now earning $12.75 an hour and will graduate from trade school next year. The credit union has since given Doug a credit card, which he is handling very nicely.
I do not suggest that you start out granting loans to every 19- and 20-year-old who applies. I am suggesting you treat them as individuals and look at their qualifications based on their age. Doug always appreciated the fact that the credit union gave him his start, and my guess is that the credit union will have a life-long member.
Look at each application individually, even those showing no credit history. You may find some of the applicants well qualified. Remember, lending is a judgment business."
(An observation on this first case in More Passion. I cannot help but wonder how much Rex empathized with this applicant whose life seems a close parallel to Rex's own starting out.)
A CEO on Rex as Coach
By Karen Church, CEO,
ELGA Credit Union
Rex was my hero and mentor. I'm not sure where our credit union would be today if I hadn't called on him in 1993. 
Rex revolutionized lending for the credit union industry. He taught us to listen and record the story of each member coming to us for a loan. He said, "ask good questions to understand their future attractions rather than dwell on their colorful credit from the past". He explained that we would help them with affordable loans, and they would help us with higher yielding loans. Rex was spot on!
He was a phenomenal credit union leader!
A Brief History of Elga Credit Union
"We are a not-for-profit cooperative; formed in 1951, owned and operated for a single purpose: members helping members."
"ELGA Credit Union had a humble beginning, helping Consumers Energy employees that were paid below the average of other industrial workers in the 1940's and 50's. ELGA got its name from a contest held in 1959 to rename the credit union, replacing the previous name, Flint Division Consumers Power Company Federal Credit Union. The name incorporates the first two letters of Electrical and Gas. Today we like to say it stands for "Everyone Loves Goals Achieved". We are dedicated to helping you achieve financial success."
In Part II tomorrow, I will present Rex's four decade- long contribution to the ever-evolving credit union story.