On January 4th the NCUA board published a request for information (RFI) seeking "input on how best to streamline and improve agency communication with its stakeholders."
This formal 8-page process listed dozens of existing communications, loads of data and website activity as examples of current efforts.
Below is my "comment" using a 1982 Agency photograph.
It shows NCUA Chairman Ed Callahan holding an open press conference following the monthly board meeting. In the picture are representatives from CUNA, credit union newsletter writers, and NCUA personnel including the Public Affairs Officer. This was standard agency practice for all board meetings in DC and on the road. Senior staff would attend as necessary. Responding to credit union and press interest was more than an obligation as a public servant; it was also an opportunity to listen and learn how the agency was viewed.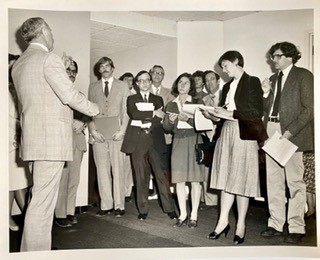 When is the last time an NCUA board member held an open press conference? Or did a Q&A following a speech?
Real communication occurs when a person engages in a "dialogue" with their audience. It demonstrates the presenter's ability, confidence and mastery of their subject.
Communication, Like Leadership, Starts at the Top
Authentic communication is not a public relations strategy. It is leaders willing to expose their ideas in public discourse.
To improve the agency's presentations, the place to start is at the top. Forget the typed out scripted board exchanges, the deluge of press releases, the flood of email updates.
Schedule monthly, or more frequent, zoom or in person conferences welcoming all comers, especially the press. Bona-fide conversations are the heart of real communications.
The best way to learn what is on a person's, or industry's mind, is to listen. In real time. With live people on Zoom or in-person.
Will the new NCUA Chairman lead by example? Or with press releases?
Following is an American Banker article from 1984 reporting on NCUA and credit union's progress.  The story is built around an interview with Chairman Callahan and the policy of deregulation.
Callahan mans the credit union helm through the seas of deregulation
From:
American Banker

(Vol. 149)
WASHINGTON — When Edgar F. Callahan became chairman of the National Credit Union Administration in 1981, one of his first moves was to initiate a battle for deregulation of credit unions.
Many politicians and regulators were skeptical, Mr. Callahan recalled in an interview, in part because of the financial problems of the airline and trucking industries under deregulation. "There are still people saying it [deregulation] is bad," the 55-year-old agency chief added.
But since Mr. Callahan began his six- year term in charge of the agency that charters, supervises, and insures more than 11,000credit unions, deregulation has occurred. It has come primarily in the form of interest rate ceilings being eliminated from the accounts of federally chartered CUs.
The results? Membership, loans, and savings in CUs are growing, while operating fees charged CUs by the agency are shrinking. Among the specifics:
* In 1983, savings at federal credit unions grew to approximately $75 billion, a 20% increase over 1982.
* In 1983, insured loans were up 15% from 1982.
* Membership in CUs grew by more than one million during that same period.
"We think we're well into deregulation," Mr. Callahan said. "A lot of needless government intervention in business decisions of credit unions is being put back into credit union hands. Credit unions have now broadened their base so that they are better prepared for the economic uncertainties of the future."
One sign of this came when Vice President George Bush's task force on streamlining the financial services industry recently decided that there is "no need to alter or change [credit unions] in any way at this time."
And President Reagan sent the NCUA chairman a letter in 1982 congratulating him and credit unions for solving problems with "self-help solutions."
Not everything has been coming up roses for credit unions and Mr. Callahan, though.
For the past two years, the NCUA has levied extra insurance premiums on credit unions to add liquidity to the National Credit UnionShare Insurance Fund. Many members opposed the added fees. Said one member in a letter to the NCUA, "Assessment of additional or double premiums each year is a stiff penalty to pay, especially for the small credit unions such as ours." Similar comments called for an alternative method of strengthening the fund.
And last November, Ernst & Whiney independent auditors released a report saying, in effect, that the NCUA did a shoddy job of estimating losses relating to credit unions before the fiscal year beginning in October 1982 and in reporting those losses at the end of the year.
"Willing to Discuss Issues"
Still, credit union managers generally laud Mr. Callahan and the NCUA.
"He has been accessible and willing to discuss issues with credit union managers," says Terry Spence, president of the Rockwell Federal Credit Union.
"I wish he was still here in Illinois," says Gene Artemenko, president of Chicago-based United Airlines Credit Union.
Mr. Callahan supervised hundreds of credit unions as Director of the Illinois Department of Financial Institutions from 1977 until he was appointed to the NCUA in 1981.
Regarding the future, the NCUA is now supporting a bill before Congress that it says will strengthen the credit union insurance fund without basing premiums on risk factors, which the agency says cannot be equitably administered. The industry is divided on how to base the fund. Many credit union members support risk-based premiums.
In addition, he said, state and federal examiners are scheduled to meet for the first time as early as the beginning of next year to discuss ways of improving their trade.
Mr. Callahan, who once held three jobs at the same time and who says he is "used to hustling," has a varied background. It includes positions as Illinois Deputy Secretary of State, a math teacher and part-time football coach, and a school principal.
He now boasts of having two families, one with over 40 million credit union members and one that includes eight children.
"Just keeping up with a family of eight has kept me running," he jests.