One of the late summer pleasures that has been cancelled around the country is the fair season. In some locales this is the state fair. In Montgomery County, MD, it is the Agricultural Fair.
These week-long events display the animals and products of an area's farmers. "Livestock" ranging from cattle to rabbits compete for best of show. Winners are honored with blue ribbons on their stalls and cages. Exhibitions of colorful vegetable tables, bell jar canning displays, hand-made and knitted clothing remind spectators of a time when America was composed of smaller communities skilled in all the arts of self-sufficiency.
The Entertainment
In addition to animal races, judging contests and musical shows, there is the carnival of rides, 25-cent games of chance, and food.
The King of Fair Foods: Cotton Candy
Cotton candy and fairs are long time partners. But the product is only spun sugar. It is made by heating and liquefying sugar crystals. This liquid is then spun through minute holes causing the sugar to condense into fine strands. It is collected on a paper cone. Coloring and flavoring can be added to give the cotton-like texture a light blue or red shading.
Made on the spot with its gossamer texture, it is sometimes put in a plastic bag to keep up with demand. While superficially inviting, the product has no food value. Just hot air and a sweet taste.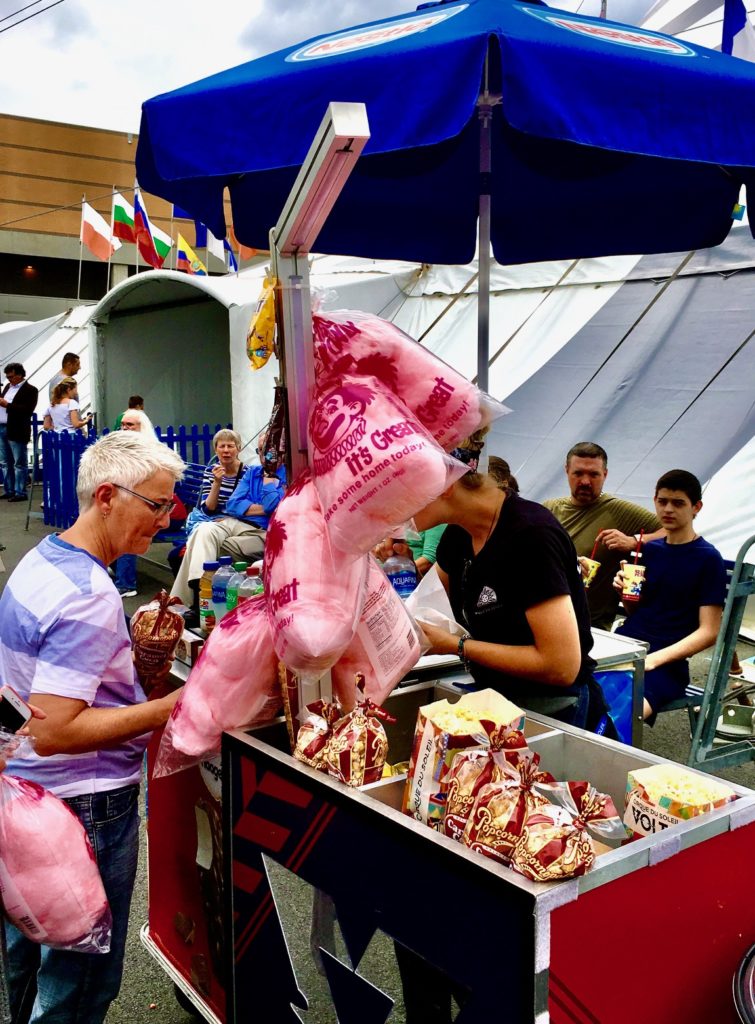 NCUA's New Policy Initiative
On June 9, NCUA Chairman Hood made a surprise announcement of the signing of a 3-year collaborative agreement "to bring small business and credit unions together and expand awareness about EXIM programs."
The announcement was unprecedented. As the topic of Export-Import Bank of the United States (EXIM) lending was totally new, I FOIA'd NCUA asking for all agency documents for this unexpected "enterprise."
The documents provided were already in the public domain: the Memorandum of Understanding, the June 9th press release, and Chairman Hood's video statement the day of signing.
This "background" information included the following statements:
"the discussions that led to this agreement began many months ago"
"NCUA has had a long and constructive relationship with the Export-Import Bank"
"the collaboration will be a great help to many hard-pressed entrepreneurs"
Given these statements, I asked the agency to confirm that I had received all the relevant documents about this new program. On August 9, the agency reconfirmed they provided all they have.
What to Make of this Policy "Initiative?"
The documents show no agency or credit union data or research to support this program. There is no trade association or credit union interest expressed. There is no example of any credit union member, whether small business or natural person, inquiring about this possibility.
The NCUA board was not part of this event. It was a solo signing by the Chairman, even though former Chairman McWatters had been nominated to serve on the EXIM board by the President in 2016.
NCUA had nothing to show the relevance of this program or "the discussions that. . .began many months ago."
The Context for This Announcement
At this same time, credit unions were in the midst of vital Payroll Protection Plan emergency lending to help businesses and members through the largest quarterly GDP economic downturn ever recorded (the second quarter of 2020).
According to the article "Credit Unions Help Save More Than 1.1 million Jobs Through PPP,"  credit unions in all 50 states and DC disbursed 11,424 loans exceeding $150,000 (1.73% of all loans in the $150K-$1 million category). Total balances of $3-8 billion had to be estimated because individual loan amounts in this size range were not provided.
For loans less than $150,000, credit unions granted 179,085 loans for a total of $4.67 billion. By number of loans, the credit union share was 3.29 percent, and by dollar balances 4.23 percent of all borrowers.
This analysis of Treasury Department data ends with the most active coop lenders:
Mountain America Federal Credit Union ($9.3B, Sandy, UT) originated more than 7,000 loans, more than any other credit union. Of these, more than 6,560 were less than $150,000. Greater Nevada Credit Union ($1.1B, Carson City, NV) originated the most loans of all credit unions in the larger loan category — almost 700 loans more than $150,000.
NCUA in This Time of Crisis
Credit unions are doing what they do best in a crisis: lending to members. As stated in the article, "credit unions played a larger role in lending to smaller companies, underscoring the movement's commitment to Main Street business borrowers."
By contrast in NCUA's EXIM signing video, a bank spokesman says there "is nothing active now." The banks chairman Kimberly Reed reported that the total financial assistance provided small businesses in 2019 was $2.3 billion. Credit unions, in the three months included in the Treasury data, extended over $9 billion in the critical PPP initiative.
NCUA has published nothing about this extraordinary effort. Instead, as this was being done, NCUA was spinning cotton candy. Irrelevant in both context and member need, this PR event was "just hot air with a sweet taste," while credit unions soldiered on confronting the crisis at hand.