Access to cash is members' top financial worry in a crisis. Some are fortunate to have savings, steady income or retirement to draw upon. Others, living paycheck to paycheck, must rely on credit. These two options are illustrated from actual events. In person lobbies are closed. The CEO directs members to one of two "drive-throughs" serving everyone, regardless of circumstance.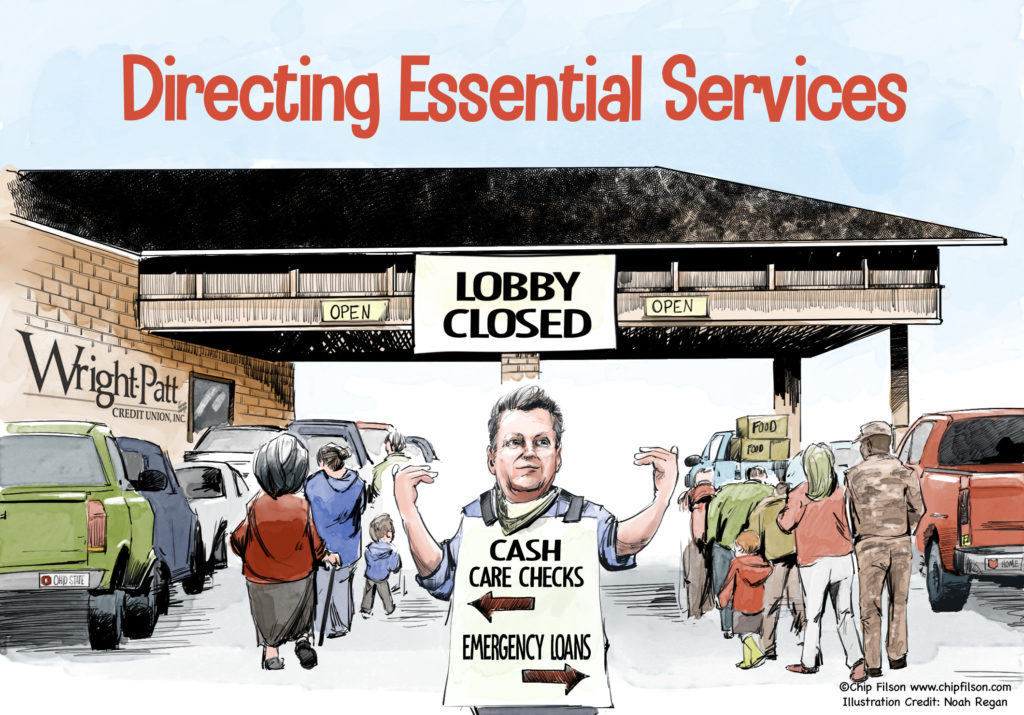 Born in a Crisis
In 1932 during the national depression, workers at Wright Field in Dayton, Ohio decided to chip in 25¢ a week to help an ailing co-worker and his struggling family. Recognizing a great idea, they later took a quarter each payday to create a fund for fellow workers who might one day also need help. It was called "The Sunshine Fund."
That shoebox of money became Wright-Patt Credit Union, Ohio's largest, with over $5 billion in assets.
Those seeds planted 90 years ago now serve 400,000 members in central and southwestern Ohio during an economic shut down some are comparing to the Great Depression.
Managing a crisis like COVID-19, without any playbook or past experiences to draw from is challenging. The issues that come up are things most wouldn't have imagined a few short months ago. For CEO Doug Fecher, there are only two rules: "Try to do the right thing as best you see it; and, do those things the very best you can. If we do those two things, we'll be okay."
The following excerpts from Fecher's April 15 board crisis update documents the intensity of added activities undertaken in this "essential service."
From CEO Fecher's WPCU Weekly Board Update (with permission)
The big news this week is the government's release of stimulus funds.
WPCU today received and posted about 81,000 ACH deposits for $147MM of government stimulus funds
Lending
We've processed 10,700 skip-a-pays for about $3.6 million in payment relief.
We've made 211 disaster relief loans totaling $260K.
First mortgage activity, especially refinancings due to lower rates, continues brisk with 240 closed mortgages so far this month.
We release full government payment proceeds to members even when members may have a balancing owing or negative deposit account balance with WPCU.
As of Friday, April 10th, we've processed 128 forbearances on 1st mortgage loans in the WPCU portfolio.
Commercial Lending
We have obtained SBA approval on 180 PPP applications for a total of $37MM in funding.
The PPP loans approved so far support nearly 4,600 jobs. Loan amounts range from approximately $300K to $2.8MM.
An additional fifty PPP applications are in process raising our total to $40MM.
About 300 commercial applications are in queue as of April 14th.
Partner Update
We have no employees confirmed with COVID-19.
Thirteen employees are in physician-directed self-quarantine.
We pay COVID-19 medical expenses for employees and family members on the WPCU health plan.
Absenteeism has decreased as more Partners have been moved to work from home. For example, member help center absenteeism fell to 1% this week, from 14% on March 30th.
Operating Updates
Transaction volume is much higher this week across the board. We received 7,376 calls into the member help center on April 14th, compared to 5,780 calls as of March 30th.
Member center and member help center activity jumped this week with the release of government stimulus checks. This is resulting in longer than usual lines in drive-thru lanes and on telephones.
We are seeing increased attempts at fraud.
Marketing communicates on everything from encouraging use of remote services, to fraud avoidance, to helping members with their government stimulus checks.
Liquidity as of April 13th
Our liquidity coverage ratio is 3.46.
This means we have almost three-and-a-half times the maximum cash draw down in the last thirty days in available liquidity.