Over the past two months, the plight of the 3,500 borrowers secured by taxi medallions has been on many political leaders' minds.
Members of Congress, the New York City Council, the union representing the taxi drivers, CUNA and three credit union leagues have all written or spoken up asking NCUA to do what is in the borrowers' best interests. They have all sought a collaborative solution with the borrowers, not an outright sale of the portfolio.
In January, several dozen driver-borrowers showed up at the NCUA's monthly board meeting to present their case firsthand. NCUA has met with the union's representatives but has given no information about the portfolio's size and composition, the options being considered and the agency's criteria for seeking a change from the current outsourced collection effort.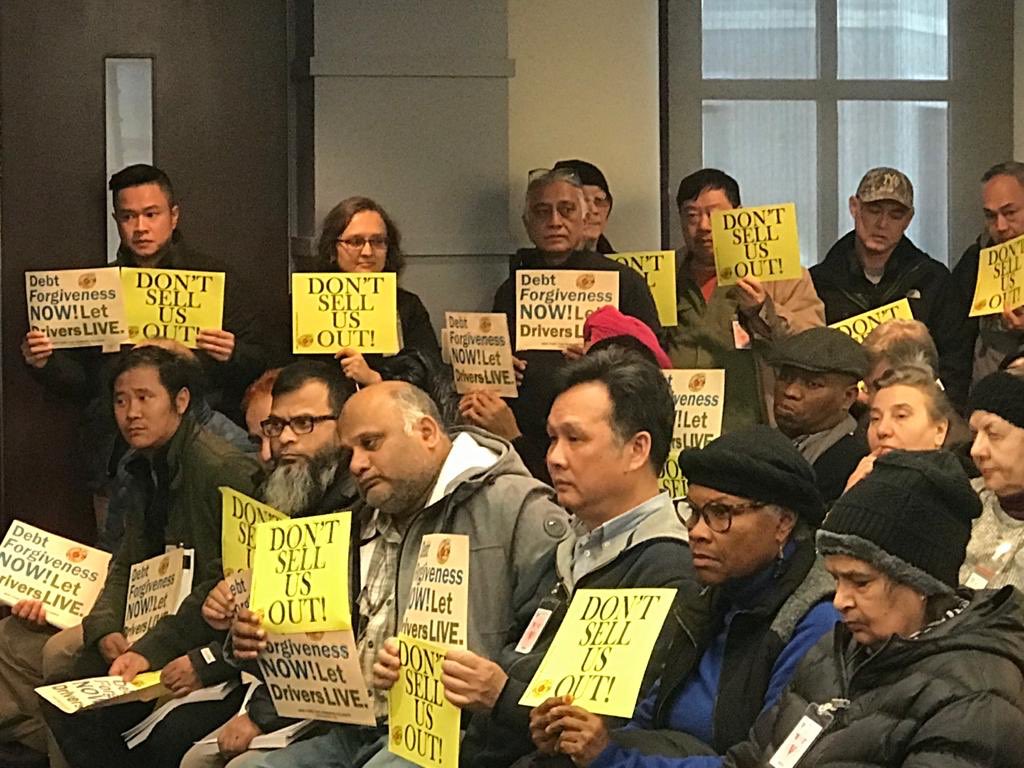 This is the NCUA Board's Decision
The Federal Credit Union Act explicitly states that the "Administration (of NCUA) shall be under the management of the NCUA Board." While the current three appointees may prefer to opine about broad policy issues from cyber security to consumer protection, their day job is to ensure the Agency is properly managed.
Most immediately this decision about the fate of the borrower members from Melrose/LOMTO's liquidations is on their desks. The responsibility cannot be delegated to some staff or committee. The identification of reasonable options and then selecting what is in the members' best interests for the future of this portfolio loans is in their hands.
A Solution in Everyone's Interests-Available Now
The credit union press reports that NCUA has put the loans out for bid. It is no secret that hedge funds have been buying up New York medallions at auction for cash. These firms are risk taking vulture investors, bidding at liquidation prices, seeking an extraordinary return. They do this by squeezing borrowers further or by flipping the security to individuals who understand the medallions' economic value when used to operate a taxi business.
There is good news however. An immediate and proven solution is readily available that if used, would be a win-win for everyone who has expressed an interest. It would give borrowers a chance to earn out the collateral's economic value, provide significant upside recovery for NCUA, and most importantly, demonstrate the unique capabilities of the cooperative model.
This solution is a CUSO. The entity is 100% credit union owned, a 24 by 7 operation with call center, lending experts and decades long experience in the administration of taxi financing whether on balance sheet or participations. It has the resources and capacity to provide a solution that is visible, accountable and most importantly sustainable, whatever the time period required to work through the portfolios.
For the board not to be aware of or to have a proposal from this proven industry resource would be at best negligent, if not at worst, a total dereliction of duty.
Why This Solution Makes Sense
It is in the borrowers' interest to have these members' loan administration overseen by an entity whose sole purpose is serving the credit union system. The unique coop values, capabilities and design are a part of a CUSO's DNA. NCUA's responsibility extends to all members not just those with savings. Selling members' loans to profit maximizing firms violates the board's fiduciary duties to these member-owners. After all the name of the financial cooperative is CREDIT UNION.
The CUSO approach harvests the financial upside in the situation. Medallions are a license to run a small business. It is an income earning asset for borrowers, not a sterile security waiting for turns in market rates. The last call reports filed by NCUA's conservators at Melrose and LOMTO showed a combined negative deficit of $150 million. When liquidated in the following quarter, NCUA recorded a $745 million NCUSIF expense against the allowance account. It is fair to suggest the maximum losses have been fully recognized. The potential for recoveries is highly probable if managed by an entity willing to stay the course to do so.
The downside risk is minimal. The argument that the taxi business will exist no longer and instead be overtaking by various ride hailing services is being undermined with each passing quarter. Both Lyft and Uber lose money on every ride today. Neither has ever made a profit and both keep projecting years into the future when that might occur.
Every community in which these services operates now understands they are in the "public transportation business" and is moving to initiate or improve regulation. Licensing fees, taxes, congestion limits and even employment practices are a few of the changes imposed. These regulatory intrusions are eroding the entry pricing tactic of undercutting the regulated taxi pricing used by these market newcomers.
Instead of reducing traffic congestion, ride services are increasing it in city after city. ("Ride-Hail Utopia Got Stuck in Traffic" WSJ Feb 15, '20, pg. B1) California has passed legislation effective this year that classifies drivers as employees with the accompanying benefits paid by the parent service.
City taxi regulators are modifying their practices on pricing, license fees and other regulations to give their local options a better competitive position. In one city the local drivers created a platform, ride hailing application that mimicked the convenience of the national startups.
The platform, ride share services have disrupted the traditional, locally regulated and metered-set-price approach of the taxi industry. City by city taxi regulators and operators are adjusting to remain viable.
What is not clear is whether the innovating, disruptive, nationally focused ride hailing options are sustainable. As the dominant players are now both public companies with investors wanting to see profitability, their future is uncertain. Could one or both end up becoming more "We Work" reorganization case studies?
The Three Board Members Policy Priorities
Each NCUA board member has stated a core policy/decision making focus in recent public comments.
For Harper it is consumer protection, making sure members are treated fairly.
For McWatters, it is being guided by what the law says. The purpose of the Act states, "credit union means a cooperative organization for promoting thrift and creating a source of credit for provident and productive purposes."
For Hood it is diversity and financial inclusion. Has he witnessed a more diverse group seeking financial inclusion than the drivers sitting before him at the January board meeting?
The NCUA and credit unions need a positive example of the cooperative difference for the general public. Washington and many outside the city doubt the ability of their DC based leaders to develop collaborative solutions. This is an opportunity to demonstrate the unique capabilities of the cooperative system.
Every loan portfolio option will have pros and cons. It may seem easier for the NCUA board to wash their hands, selling out to the highest bidder, who may then ask for a guarantee to protect their downside. But it would seem illogical to convert these long-term, income producing loan assets into immediate cash for an insurance fund already bulging with over $16 billion in liquid investments. At best, these new cash assets might earn 1.5% per year.
All assets go through cycles of value. Some assets such as undeveloped land, or foreclosed business premises and equipment, have no economic upside until someone is willing to invest more time and resources to make them productive.
A loan to an operator/owner of a taxi medallion is an earning asset today. The value will fluctuate depending on many factors, but the income stream can be forecast and monitored monthly or even daily if needed. All that is required is a loan administrator willing to be responsive to changing circumstances so that all parties can contribute their best efforts. For the driver-borrower it is sweat equity.
A Precedent
The September 2019 AME financial statements (latest posted by NCUA) show that there will be a distribution of $3 billion or more to the member shareholders of four liquidated corporates. Only WesCorp members are without recovery so far. This amount is on top of the $3.1 billion surplus NCUSIF took in from the TCCUSF "merger" In September 2017. The NCUSIF also continues to collect the investment earnings on the TCCUSF merged assets as well as the NGN guarantee fees. This $6.1 billion and still increasing surplus is after NCUA has spent over $4 billion in out of pocket expense (not losses on investments) administering the legacy assets.
This $6.1 billion positive net income contrasts with NCUA's loss projections for credit unions that would exceed $16 billion. A $22 billion forecasting error! Whether there should even have been liquidations of four corporates is a topic for another day. This example does prove the benefits of patient problem resolution versus the costs of cutting and running by disposing earning assets in a fire sale.
The Leadership Needed
The FCU Act says little about the role of the Chairman in managing the Administration (NCUA). It does say that the person "shall be the spokesperson". . . "shall represent the board in its official relations with branches of government" . . .and "shall determine each Board member's area of responsibility."
As Chairman Hood considers his leadership on this issue, he may want to remind everyone of his words in November 2019 on financial inclusion:
When we talk about the need for diversity, equity and inclusion, I want these principles to be viewed as forces that bring us together. Diversity, equity, and inclusion should be sources of enrichment, strength and unity, not division.
Simply put, the commitment to diversity, inclusion, and equity must be part of this industry's cherished value of "people helping people."
Peter Drucker believed, and I quote, that "Unless commitment is made, there are only promises and hopes — but no plans." He said, "Plans are only good intentions unless they degenerate into hard work."
The next step forward is to affirm that commitment by creating the plans that will bring those promises and hopes to fruition — and then start the hard work of making these aspirations a reality.
Chairman Hood, are you ready to start the hard work of making these aspirations a reality for these member borrowers whose future inclusion comes from driving taxis?