Everything in life comes around, full circle, even in credit unions.
"In 1908, Monsignor Pierre Hevey, Pastor of Sainte-Marie's parish in Manchester, New Hampshire, organized what was soon to be known as the first credit union. The goal was to help the primarily Franco-American mill workers save and borrow money.
"On November 24, 1908  in Manchester, New Hampshire  "La Caisse Populaire, Ste-Marie" (The People's Bank)  became the first credit union in the nation."  (from Our Story, St. Mary's Bank)
Today the Bishops and priests of the Episcopal Diocese of New York are following in Monsignor Hevey's footsteps.   And for many of the same reasons, as demonstrated in these founders' statements:
"As a diocese, we are committed to making a meaningful impact on the lives of those who have traditionally been marginalized and underserved. That's why the establishment and launch of our diocesan credit union is such a pivotal moment for us.
"It's not just about providing financial services, it's about creating an inclusive space where everyone, irrespective of their financial standing, can feel valued and supported. . .
"These initiatives are more than just programs or ideas, they are a call to action, a call to embody the love and grace of God in the world."
A second organizer:
"As a member of the inaugural board of trustees and co-chair of the Diocese's credit union task force, I am thrilled to see the New York Episcopal Federal Credit Union open its headquarters and first branch here in the Bronx. It's a testament to our commitment to the local community and our mission to serve everyone in our field of membership, regardless of their financial circumstances.
The existing banking system often neglects the needs of those who are underserved and overlooked, and that's why we're excited to offer a financial institution that prioritizes the well-being of all its members. We look forward to empowering our neighbors in Fordham and throughout the Bronx, as well as the entire Diocese of New York, with the tools and resources they need to achieve financial stability and thrive."
The biblical calling to be "stewards of humanity" was featured in this short recording by the Diocese announcing the credit union's formation.
In the June 30, 2023 call report, the credit union reported $477,000 in total assets, all in investments, and a net worth of the same amount.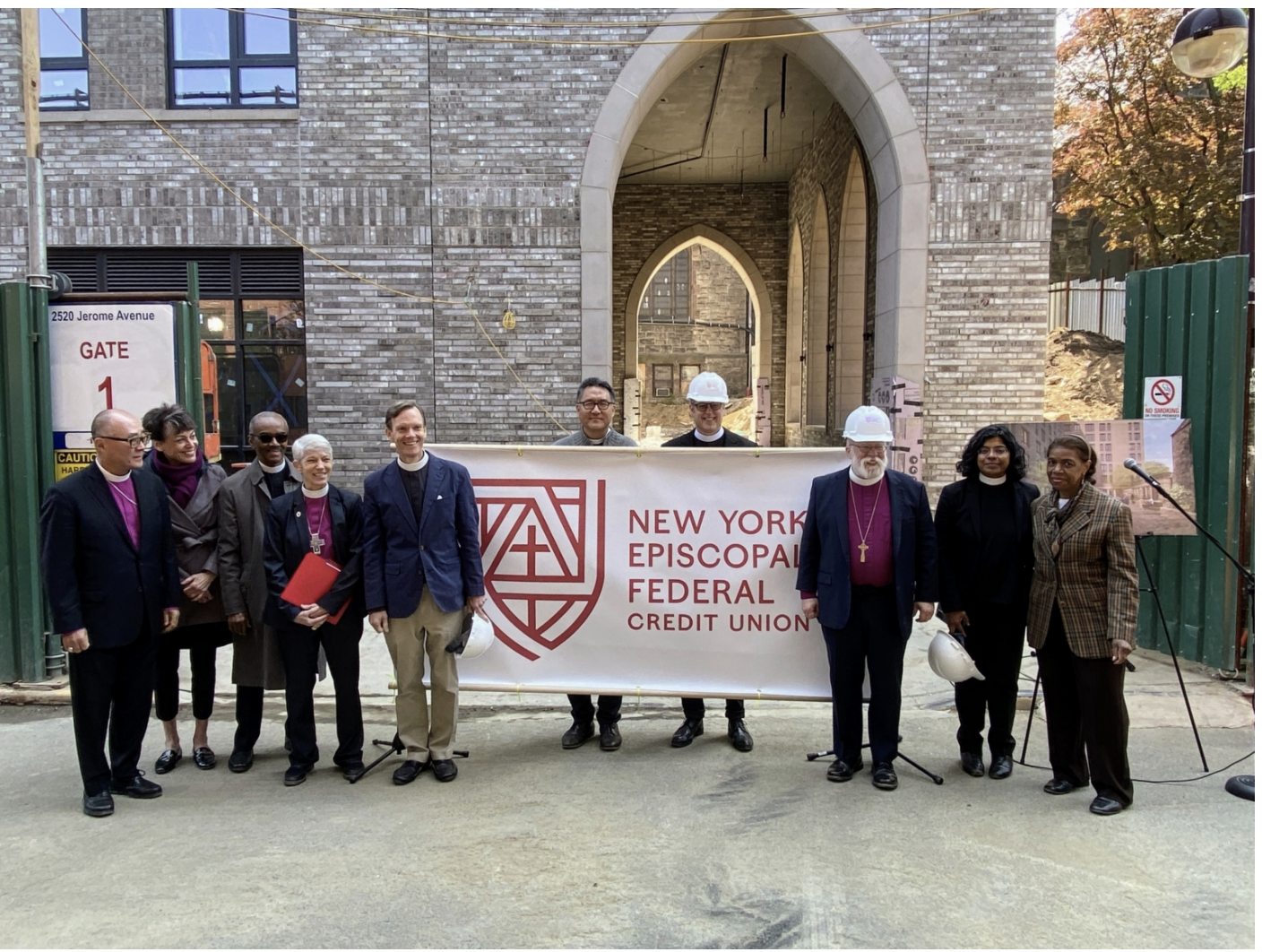 A Long Journey
Here are some details of the charter journey from an Episcopal  News Service May 23rd story:
"The journey towards establishing the NYEFCU began in 1990 when the Diocese of New York committed 10% of donations to its endowment funds to economic justice efforts and created a task force to recommend projects. Despite initial discussions and resolutions in 2003 and 2004, the credit union's development was slow.
"It wasn't until 2014 when the diocesan convention voted to "authorize the establishment of a task force to prepare a charter and solicit initial grants and deposits to establish the Episcopal Diocese of New York Credit Union."
The Diocese embraces a lively community of faith, fellowship, service and spiritual commitment across almost 200 congregations and 50,000 members.
"The task force submitted an application for a federal charter to the National Credit Union Administration in December 2020, and spent 2021 and 2022 addressing the federal agency's requests for more information and revisions before finally receiving approval.
"The credit union was launched with an initial investment of $500,000, with $250,000 from the diocese and another $250,000 from Trinity Church Wall Street. An ongoing fundraising drive aims to secure an additional $300,000 to cover the first five years of operating expenses, including staffing, office supplies, and computer technology. After this period, NYEFCU aims to have enough members to sustain itself without further external funding.
"The first branch of the NYEFCU is located next to St. James, Fordham in a new mixed-use development (St. James Terrace) that will house 102 affordable apartments, half of which are allocated for formerly homeless individuals. In its inaugural year, the credit union aims to cater to the specific financial needs of its low- to moderate-income members by offering an array of services."
Credit Unions' Future as Credit Unions
No matter the size of America's collective consumer wealth,  many still have limited access to fair financial options.  These are often the targets of for-profit financial offerings.
It's no accident that people of faith have played a major role in the establishment of coops as a way to serve their congregations.   They remind all of the values animating credit union pioneers.  And the values that make cooperatives more than "nice banks."
The fact that this charter application and processing will take from 2020 (when submitted) until the end of this year to raise sufficient capital,  shows the perseverance required overcoming government bureaucracy.
These spiritual founders are responding to the call to serve by creating a financial cooperative.
The major difference is that the Diocese had one hurdle that Monsignor Hevey did not have to deal with, the NCUA.  It just shows it helps to  have God on one's side.