Last week Karl Hoyle (1943-2021), a  credit union advocate, was interred in Arlington Cemetery.
There are 450,000 other graves, an honor earned, not bought.
The ceremony starts with a brief service in the Old Post Chapel.  The Honor Guard brings in the urn. The Chaplain reads the 23rd Psalm; the attendees say the Lord's Prayer.  The organ plays America the Beautiful and On the Wings of Eagles.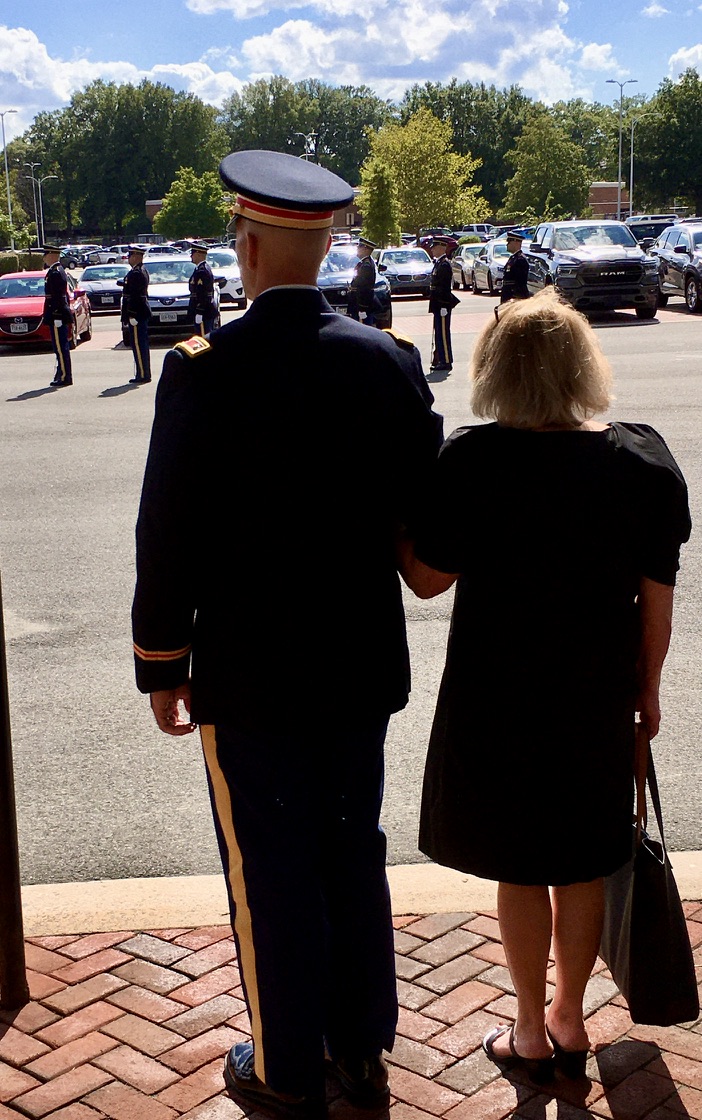 Following the service the congregation goes with the honor guard to the gravesite.  The American flag is meticulously folded in a triangle.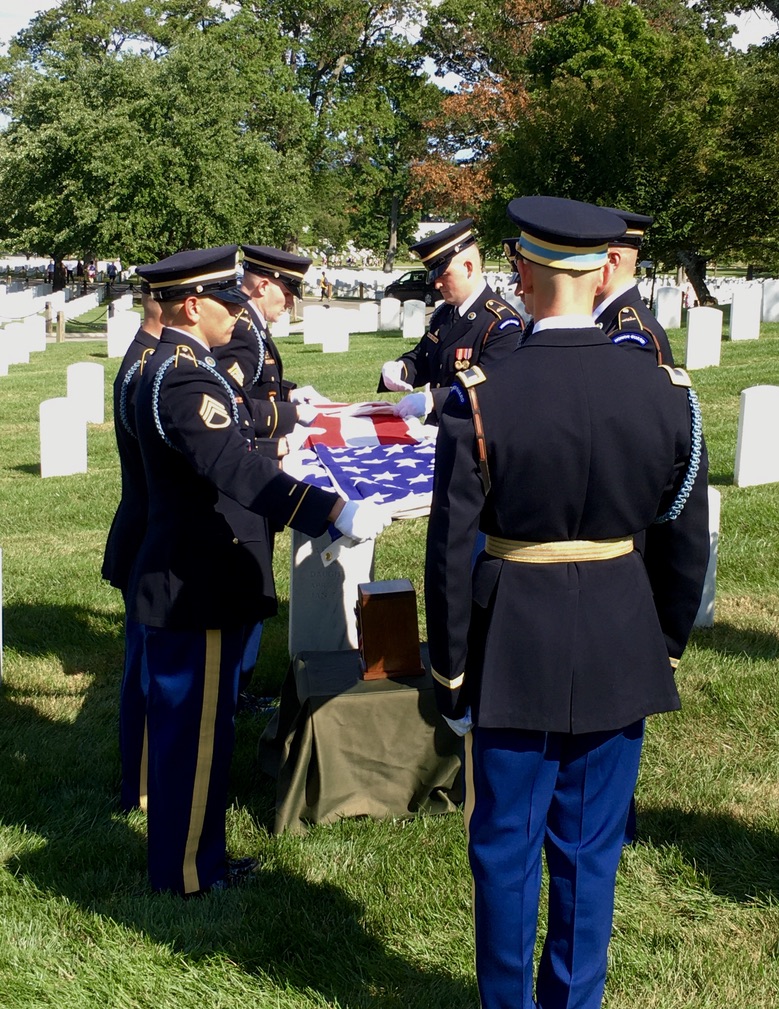 There is the seven gun salute, the bugle playing taps and the sacred moment when the flag is presented to Kathy Hoyle, Karl's wife, by an officer on bended knee.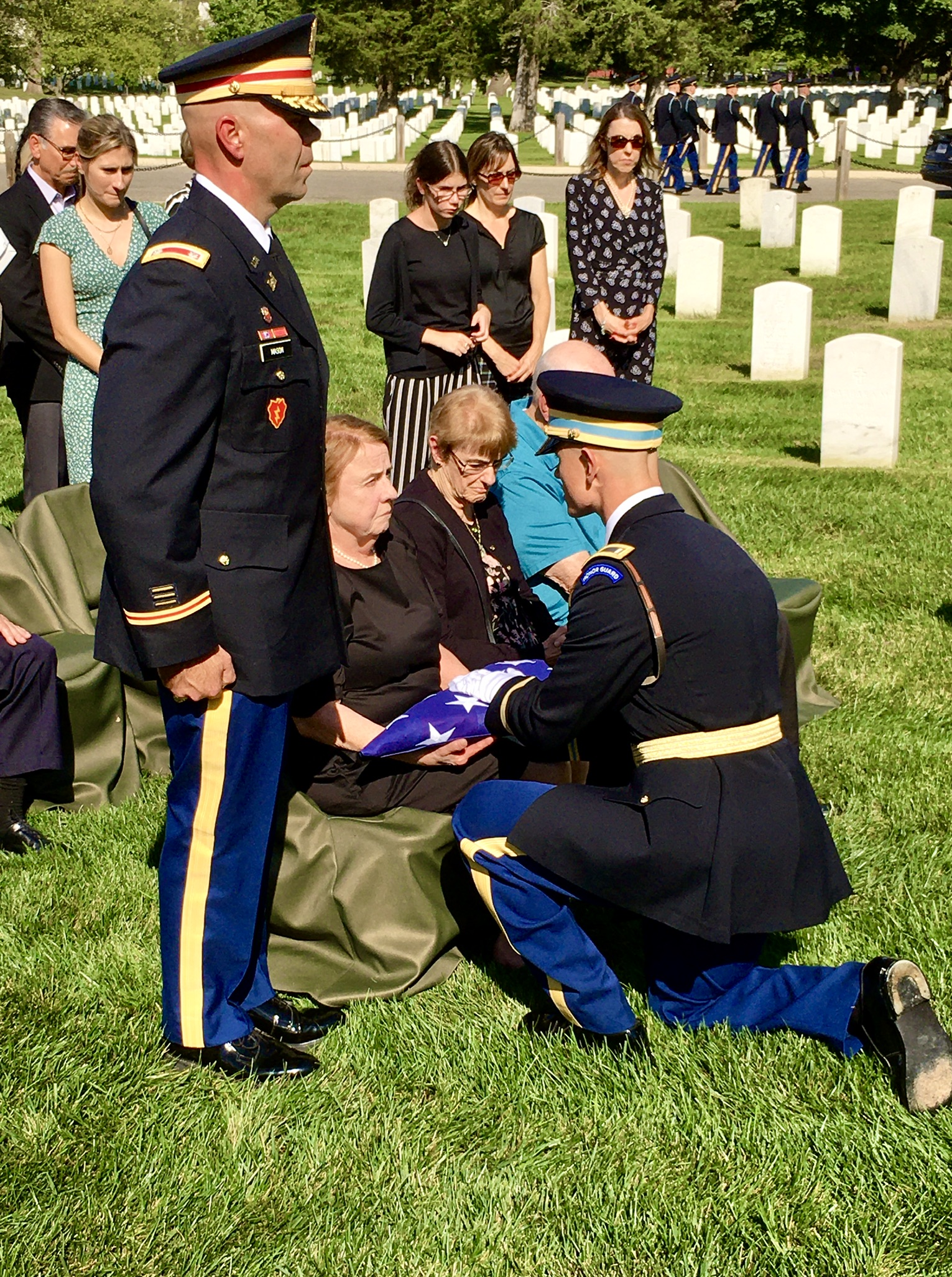 Afterwards, roses are placed on the grave next to the urn where the only identifier on the wooden box is Karl's military medals.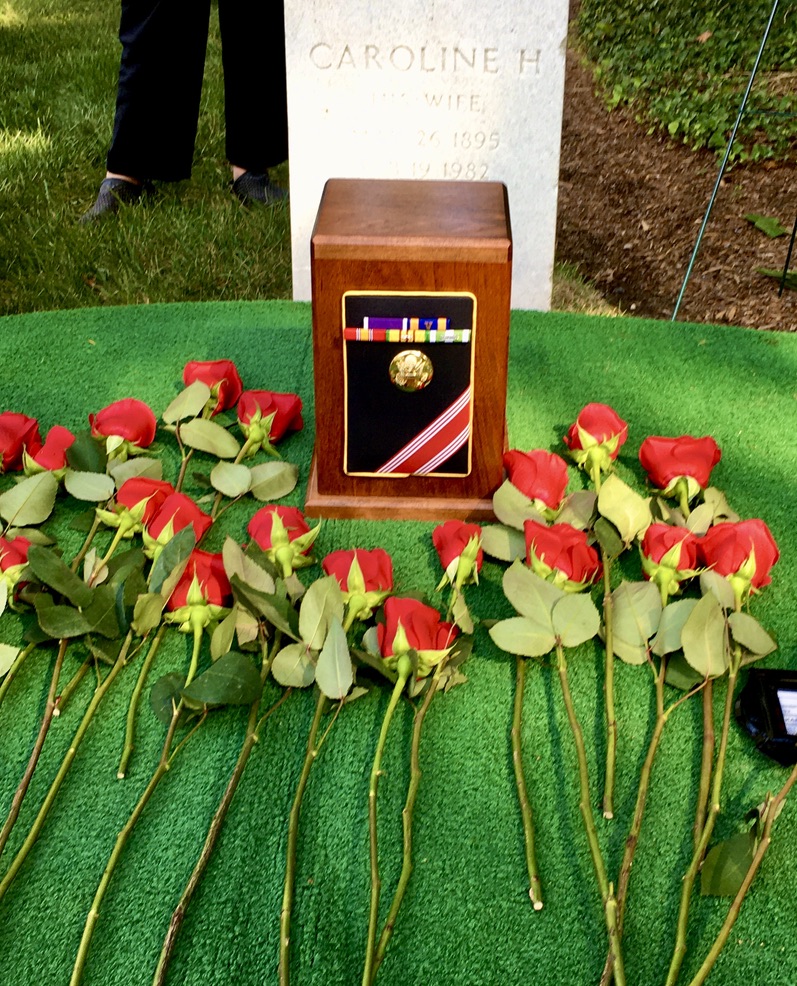 The Air Medal and Purple Heart
I learned during the reception that Karl had been awarded the Air Medal.  This  Medal recognizes military and civilian personnel for single acts of heroism while participating in aerial flight in actual combat.  It is the equivalent of the bronze star.
Karl was deployed to Vietnam as part of the 9th Infantry Division.   At the support base, a call came for helicopters to  medivac the wounded from a platoon still in the midst of battle.    He volunteered, got on the chopper and went straight into the firefight to evacuate his fellow soldiers.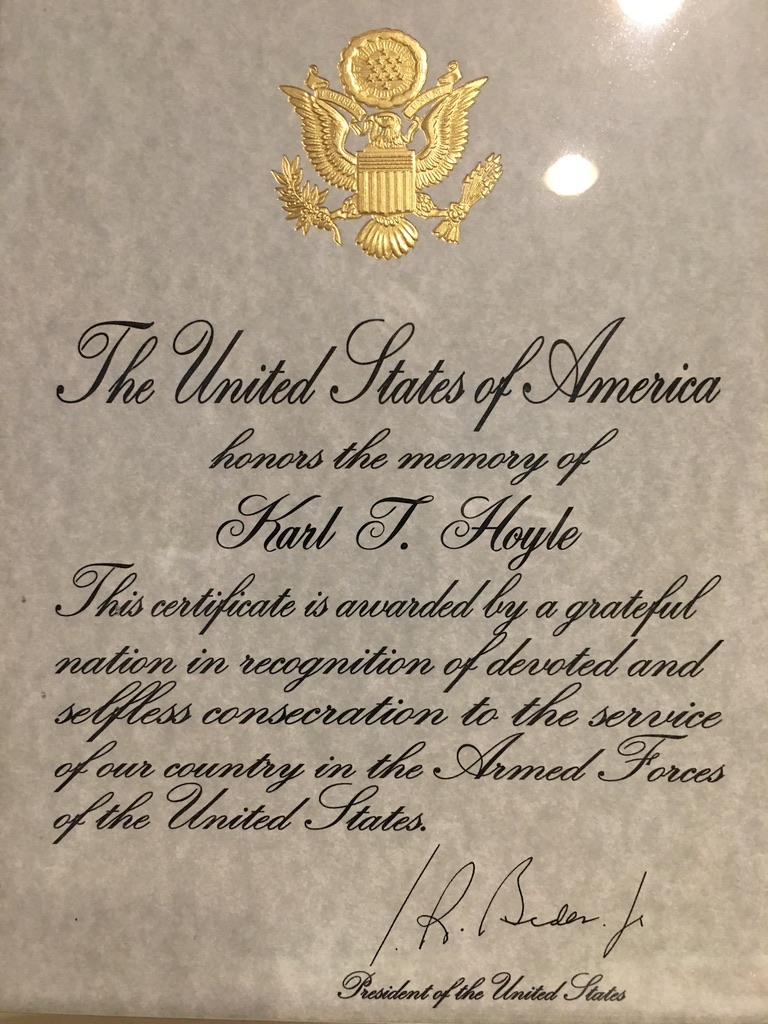 As his military colleague stated: "Karl was the guy you wanted on your team."
His life subsequently expanded to be much more than that moment of choice marked by courage and duty.
Joining the Cooperative Team
Jim Barr and Karl were the top lobbyists in CUNA's Washington Office when Ed Callahan, Bucky Sebastian and I arrived at NCUA at the end of 1981.  Both had worked together in the late 70's at the newly organized NAFCU.
Karl would sometimes remark that his profession's reputation was not always the highest.  His favorite line was, "If you run into my mother, tell her I am just the piano player in a whorehouse."
However when mentoring many others on the Hill, he counseled that :  "To be a professional with integrity, know that everything you say will be remembered."
Three Personal Contacts
Of the many occasions Karl and I spoke, three stand out.
Karl learned that I had moved to Bethesda, MD in 1982 to be near NIH because my wife was being treated for breast cancer. We hoped to get accepted in one of their special cancer studies, but had no idea how to begin. Karl offered to call and see what might be possible.  Shortly he informed us that because Mary Ann had already been on several chemo therapies, she was not eligible for their new protocols.  The studies were limited to patients with no previous treatments.
In 1984 NCUA and the entire credit union system endeavored to find a Congressional bill in which to insert wording to redesign the NCUSIF in the Federal Credit Union Act. Democrat Bill Bradley was a key player on the Senate Banking Committee.  Karl was aware that Bill and I had played basketball together.
He brought me up to the Hill and sent a messenger into a banking hearing saying Chip Filson wanted to talk to the Senator.  Bill came out, motioned me into an elevator with him.  Lobbying Congress was not something I did for a living.  I don't remember what was said, although I suspect Karl gave me the points to make.
Later that year Congress passed the Deficit Reduction Act, with bipartisan support, creating the NCUSIF's new cooperative financial structure based on credit union's 1% deposit perpetual underwriting.
In May 1985, Ed, Bucky and I left NCUA to set up Callahan & Associates with a first office in the Triangle Towers building in Bethesda. Initial capital, $1,000. The location allowed me to be close to home, since I was a single parent with two teenage girls.
Shortly after, Karl called and asked if we needed any furniture.  CUNA was moving offices and had several old desks and chairs which we could have if we moved them ourselves.   We did.
He also asked if we needed any staff.  All three of us had worked in state or federal government for the past decade and were used to having support.  We said yes.   He said his wife Kathy, a superb office manager, was looking for a new opportunity.   She became Callahan's first hire.
Karl's Essential Cooperative Skill-Connecting
Karl's special talent was facilitating the power that results from connecting people for common purpose.  Connections are what tie us together in community or when confronting personal circumstances.
Bucky said Karl's success  was the result of his building relationships with  the staff in Congressional offices.
A former hill staffer at the reception knew Karl.  Her husband had been killed in the Air Florida crash in the winter of 1982 when the Potomac had frozen over.  She said Karl's way of helping was: "Don't call. Just show up."
Tawana James, Karl's deputy when he was Executive Director at NCUA, said "he cared about people."
Credit unions' competitive advantage is at its strongest when leaders collaborate.  Karl's talent for connection came naturally, it was not an artifice.
Staying Connected
Two examples of his talent are in the pictures below.  One was a note to Bucky when Karl was in Madison at CUNA's headquarters.  The second, a photo with the coach of the credit union team at the time, on which Karl was such a vital player.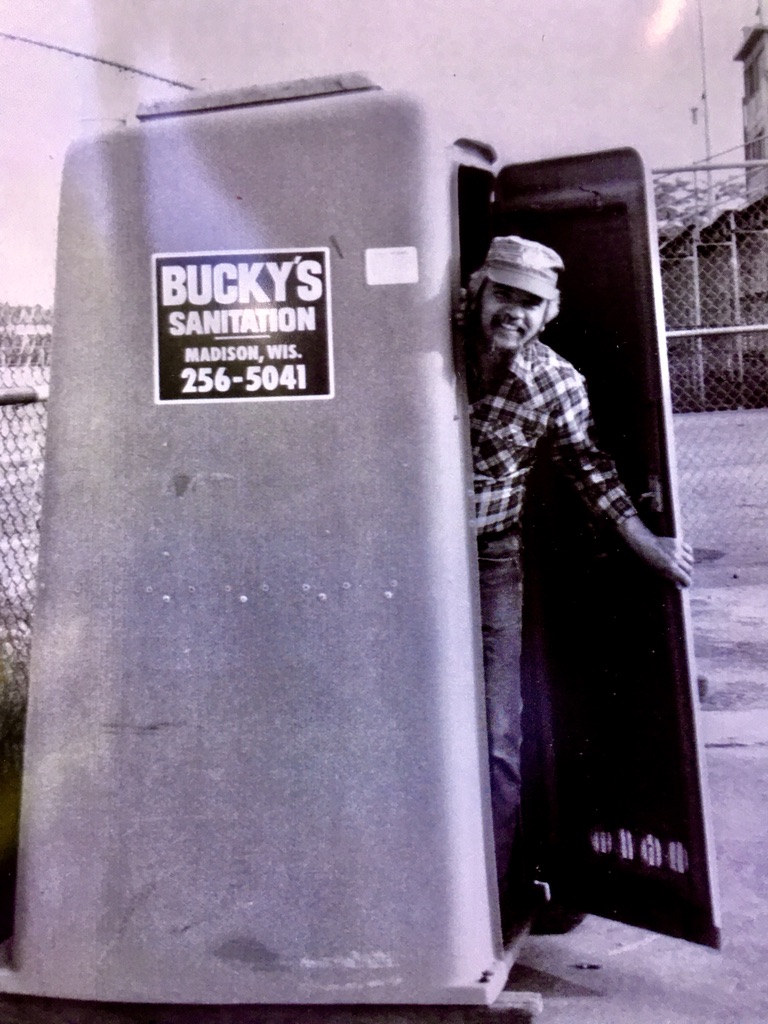 Kathy like Karl has filled many roles  within the credit union system.  This year she will retire after working  more than a decade at InFirst Federal Credit Union.
Kathy and Karl: A relationship  bound by common purpose and service.