Bank Transfer Day.   It was a national headline PR story and marketing tsunami in 2011. The activity was started by a young woman who took action when Bank of America began charging fees because her combined balances were less than $20,000.
The person behind this movement was Kristian Christian.  She stepped up because she believed  bank executives were "out of touch" with their customers.  Her example raises a question: do credit unions need her activism even more today?
The Bank Transfer Day Story
The time was the fall of 2011.   The worst of the 2008/09 Great Recession was over.  Banks were being held to account by regulators.  Customers were paying the price.
Two brief videos that capture this movement's moment.  The first is a 6:26 minute video from the news program Democracy Now on November 9, 2011.   The report estimates that as many as 700,000 people may have transferred money by the November 5th transfer date in response to Christian's call to action.
In this news interview Christian also tells how she started  by  just sending a Facebook post to her 500 followers and asking them to join.
The second video from Christian, one year later in November 2012, gives an update on the  results and describes some of the online attacks she experienced.  Her message is for activism to succeed, it requires initiative and courage.
Where Grass Roots Efforts Are Needed Today
In the first video, Christian says banking executives were disconnected from the people they were meant to serve.  She urged her "followers" to seek out a not-for-profit credit union or community bank and transfer their funds to these locally-focused institutions.
Today might Christian see this same situation where  some credit union CEO's and boards seem totally removed from their own member-owners?
In recent  years  a number of credit union members have experienced the merger of their sound, long serving coop justified with only rhetorical statements about the future.  But also creating immediate benefits and payouts for the initiators.   In several cases the CEO's promised to stay in leadership roles to oversee their former members' interests only to bail out within the year.
Here is one member's comment on a merger vote completed this month:
Have asked several times for the actual voting numbers and have been told that no one has then and if they did they would not share them.
 Have you ever voted and not known the voting results? Employees from SEFCU were asked what they're shirt sizes were for the new logo well before voting even ended. Also that it would become legal as of August 1 . Again before the end of voting. Whole thing smells !!!!
In another case, the Chair and CEO transferred $10 million dollars of members' capital to a newly formed private "foundation" under their control as part of the merger.   According to  IRS form 990, the FCCU2 is a private foundation holding assets$11,973,971 at 2021 yearend.  The $2.0 million increase in assets occurred in less than 6 months. There is no mission statement, operational activity or officers listed in the Guidestar (Candid) report from the IRS (EIN: 87-1724276).
The Fix Is In
Credit union boards have ignored or stifled efforts for members to participate in the annual election of directors.  Virginia Credit Union is a well-publicized example because some members  challenged the status quo and submitted nominations.  The credit union turned a blind eye to their efforts and the disenfranchised members went public.
Few credit unions today actively encourage or seek board candidates.   Annual elections have become moot as internal nominations just equal the number of open seats.
The democratic governance model has been converted to a self-perpetuating board oligarchy.
Solution: Credit Union Transfer Day
Christian's effort shows there is nothing more powerful than an engaged person who wants to change the world.
How might her example empower credit union members who feel overlooked by their coop's leaders?
Should they identify another credit union willing to open their doors to persons seeking a responsive coop?  Transfer their money?   Refinance their loans or shift their direct deposits?
Christian's method was simple: vote with your funds. Do something, not just complain.  Let your personal network know what you have done and ask then to support your position.
In 2013, Christian again stepped up by joining over 6,000 credit union supports to sign a petition to the White House to "Choose NCUA leaders who Understand Cooperatives" when making appointments to the Board.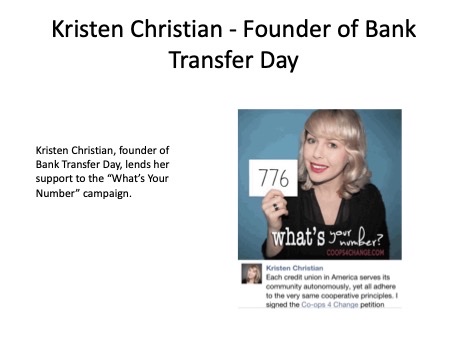 Maybe concerned members should contact Christian to see what she is doing today?