A long-time financial consultant wrote me last week:
I will share what I know for a fact: market relevance trumps scale every day of the week. I will concede that part of maintaining market relevance requires continuous investment in your business and scale can help pay for that investment. But scale is not economy of scale. You can be big, inefficient, and fail spectacularly. You can be small, focused, and efficient and blunt competitors all day long.
I have multi-generational clients that are not massive in terms of scale, but they serve their communities better than anyone else. It's a relationship business. People tend to forget that. Banking is not a transactional business, although people try to make it that way. If you are going to be in the transactional business, then you better have scale and be efficient.
An example of this observation is Tongass FCU ($131 million in assets) founded in 1963 by teachers unable to receive loans from banks because of their seasonal income. Today the credit union headquartered in Ketchikan establishes "microsites" partnering with local sponsors to bring financial services to Southeast Alaska's coastal villages and towns.
Its motto is offering a credit union where no bank will go. The following are stories by the CEO, Helen Mickel carrying out this financial services mission.
Our First Microsite, then Branch at Metlakatla
Metlakatla is the only Native Indian Reserve in Alaska. It is located on Annette Island, a 12 minute float plane ride from Ketchikan.
Metlakatla was suffering from an economic downturn back in the early 2000's which caused the only bank, Wells Fargo to shut their Metlakatla "store" in May of 2005. Wells Fargo Regional President, Richard Strutz, explained that, "With the economic decline in the area since 2000, it was difficult to maintain and staff a store." Wells Fargo has a minimum asset requirement for their stores and the $4 million branch was well below that minimum.
Because Metlakatla is on an island, accessible only by boat or float plane, cash was received only once or twice a week. Following Well Fargo's closure, the community employees struggled to cash payroll checks through their tribal government office typically running out of cash well before the last person was served. This was in a town that primarily used cash for their purchases. One enterprising resident tried to run an ATM machine, but had difficulties keeping cash in the machine which ran out within hours of being reloaded.
The transportation of cash to the community was a constant problem. The community struggled and asked various financial institutions to come in, but found no takers. Then some community leaders visited Tongass' then CEO, Susan Fisher, to ask about the possibility of a branch in Metlakatla.
The Credit Union's officers and staff met with Metlakatla residents in June of 2005. Susan explained the difference between banks and credit unions and described the importance of their involvement for a credit union to be viable in their community. We needed affordable space for the credit union and residents willing to become members who would borrow and save at the credit union.
The credit union began offering services once a week at the Metlakatla Indian Community council chambers in the summer of 2005. Staff members flew to the island, opened accounts and transacted business with new members.
The residents gave us a warm welcome. One member waited for over an hour so he could show us his artwork and his small gift store at the artist's village. Another member took staff to his house so we could take pictures for a home equity loan. We met his wife who was baking pies that day. She sold them once or twice a week as a small in-home business. Their daughter ran a take-out pizza restaurant out of their converted lower level.
Another member gave a tour showing us Purple Mountain – which brought new meaning to "purple mountain's majesty, above the fruited plain" from "America the Beautiful." We saw Yellow Hill – which would look more at home in the Arizona desert.
I fell in love with Metlakatla that day. It reminded me a little of Ketchikan when I was a kid and working at Steamboat Bay on southeast Alaska's west coast. I felt welcomed and honored.
A New Office
Within months we opened a small office in the old Wells Fargo building doing all our transactions without the aid of computers. A staff of three part-time employees worked just two hours a day during the week. The ATM at the office was re-fitted and fired up right away. Two more ATMs were purchased over time and placed in the mini-mart and bingo hall. In the fall of 2006 computers were installed in the tiny office and our staff began doing real time posting.
In 2010 TFCU was approved for a secondary capital loan that allowed us to invest in a new building in Metlakatla. The new branch was completed in 2012.
Early in our outreach to Metlakatla we established a local advisory board. This board helped TFCU work toward providing services in their unique community. Listening to the community members has been a foundation for our progress on Annette Island.
A sign was requested by the local advisory board for the branch's exterior. They wanted something that would reflect their culture and their "house of money" which is the Smalgyax translation for bank. In 2017 TFCU was able to connect that request with reality in the form of David R. Boxley's "Spirit of the Tongass" logo, shown below in Smalgyax .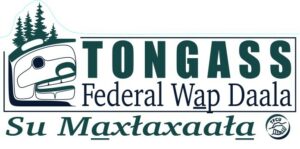 As of 8/31/21 Metlakatla Office's numbers:
Members: 1,272
Shares:       $8,037,007
Loans:         $9,574,664
THORNE BAY – THE BLUEPRINT
In 2006, we began offering financial services in Thorne Bay.
Our first space was located inside a sporting goods store that was in the lower level of the store owner's home. The cash was kept in a gun safe and transactions were noted on paper.
Since that time, we have created a more sustainable model, hiring employees, using computers and eventually finding a home in the City of Thorne Bay building.
Thorne Bay became the blueprint for future sites.
NEW COMMUNITY MICROSITES
In September 2019 TFCU opened our Hydaburg site in their local school with an offer to use an office in the common area. Then in December of 2019 we opened in Kake, sponsored by the Kake Tribal Corporation and located in their office building.
Our most recent community microsite is in Hoonah, opened during the pandemic in June 2020! Our TFCU promise and Hoonah's commitment made it happen. Before, these communities were "banking deserts" with no available financial services.
We brought financial services to Hoonah in partnership with the Hoonah Indian Association – serving the community from their beautiful canoe shed.