We are all heirs of September 11, 2001.  Some from experiences close up and personal.  Others as horrified observers, unable to look away from the TV coverage.  And for more, it is an event in history known primarily  through broadcasts like those aired this past weekend.
That September day is now part of America's story.  The heroic parts about fully loaded firemen walking up 80 stories to open jammed doors to let occupants walk down while they, duty-bound, rose to ever higher floors and  their destiny.
We recall the shared emotions-fear, vulnerability, anger, confusion and the desire for retribution.
And we follow still the unfolding domestic and international political decisions that continue to be analyzed and interpreted two decades later.
The posts today and tomorrow are about that day. First two personal accounts and tomorrow a response at that time by a credit union leader.
Everyone has a story.   They connect and sustain us.  They help to make us who we are. That is why we remember.
A Personal Story
On Tuesday 9/11, I was in our office overlooking Farragut Park in the center of DC, three blocks from the White House.  September would normally be a peak month for planning sessions out of the office. However our daughter Alix was getting married on 9/15 and  Joan and I had planned a week long singing vacation in Salzburg, Austria for later in the month.  I was not paying attention to the business trip Joan began the prior Thursday to New York City for NABE's Annual convention at the Marriott World Trade Center Hotel.
Upon first report of the plane hitting a trade center tower, I assumed an accident had happened.  Here is how one employee remembers the following cascade of events.
"I was at the  Callahan office that morning which happened to be 5 days before my wedding.
I got a call from Alix  who was home after her morning coaching session on the Potomac .   She told me that a plane had hit the WTC while she was watching the Today Show (NBC). I remember thinking of a documentary I saw where it described how a plane had accidentally hit the Empire State Building in fog several decades earlier causing some damage but obviously not destroying the building or causing mass loss of life.  So, I wasn't very concerned. 
When it became clear that this was a passenger jetliner and that another plane had struck the other tower it was obvious this wasn't an accident.  By this point, everyone the Callahan office was very aware and all were concerned.  We rolled out the large CRT TV on its cart so people could watch the live news coverage. 
News of the Pentagon being struck became part of the news too but very limited live footage of that was available.  Most of the TV focus stayed on NYC.  At Callahan we could see the smoke coming up from the Pentagon from our 10th floor Farragut Park overlook which had a line of sight directly to the National Airport Control tower — next to the Pentagon.  
Cell phones and office phones rang throughout the morning — mainly family members of employees calling to check in and share info.  Rumors swirled in the office from the calls– other planes possibly headed to the White House, just blocks away. One employee said there were "fires burning on the mall." From our windows we saw employees walking/running from  all White House area buildings
Of course, this increased the  concerns of everyone in our office.  
It wasn't long before the scene at Farragut Park totally changed  from a normal calm mid-morning, post-rush hour commute.  The park was absolutely flooded with people…all trying to go home it seemed but the metro wasn't capable of handling that many people at non-peak times.  Large crowds blocked all streets, barely moving and no cars or buses could escape.  Cell phones were also no longer working — the networks were far too congested.  
The big question was whether we should close the office and tell people to go home.  I recall the conversation centered around what would be safest for staff — staying put was probably safest and least frustrating given the chaos on the streets outside and likelihood of many hours to get home (many had to walk given the transit freeze).  However, we knew that many staff wanted to go so we gave everyone the choice to decide for themselves. Most left within an hour. " 
During the cascading events of that morning, Scott Patterson came to my office to tell me that my daughter Alix thought Joan was in NYC for a conference.  She wanted to make sure I was aware.  I had not remembered nor put 2 and 2 together that Joan was not only in NYC but also at the WTC complex. Lara, my other daughter, six months pregnant, was in nearby New Jersey, having arrived in Newark from California the night before to attend a conference.
Of course, Joan was unreachable, without phone, on her own until  that afternoon when a third party called on her behalf as described below.
By midday, everyone had left the office.  People needed to be with their families and away from any potential targets in downtown DC.    I remained  at Callahans till late that afternoon, answering phones and watching.  By then the metro was running, the crowds had left and I got back to Bethesda that evening.
Joan's Story at the World Trade Center Marriott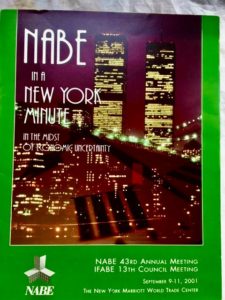 The National Association for Business Economics 43rd annual meeting was at the New York Marriott World Trade Center Hotel from September 9-11, 2001.  The event's tagline was "In a New York minute in the midst of economic uncertainty."  I was the press officer.
Visiting Windows on the World
The night before the attack, Monday, Sept. 10, Diana Gregg, a reporter for BNA, and I decided to make a late night visit to Windows on the World, the famed restaurant on the 106th floor of the North Tower. We wanted to see the view and there wouldn't be time Tuesday morning because of the conference and press events.  It was a short walk to the elevator on the ground floor of the North Tower; midway up, we changed to another lift, creaky, but with an elevator operator. We were tempted to stop for a drink, but it was late, so we went to the viewing platform to see the twinkly city below. There had been rain.  We felt we were on top of the world ….and believe we may have been among the last to leave Windows on the World.
Seventy-nine people who worked at Windows died on Tuesday morning, September 11, when the plane crashed into the building, as did 91 restaurant guests, many attending a conference that morning.  NABE had considered having its Sept. 11 CEO breakfast at Windows, but opted instead for the grand ballroom on the ground level of the Marriott WTC hotel. The hotel adjoined the North Tower.
On Tuesday, the morning session was in the 1st floor Grand Ballroom. Robert Scott, Morgan Stanley President and CEO, was speaking to the group.  Then came a jolt.  The lights flickered.   Chandeliers began to shake.  A rumble, like an earthquake.
Everyone headed for the exits.
My NABE colleagues and others helped people get out of the hotel…we were directed away from the front entrance because of falling debris and went thru the "Tall Ships" side entrance-which had been locked, but was knocked open… police on busy West Street highway  stopped traffic so that we could cross …I made my way to the Hudson River, stopping along the way to stand with groups of NABE evacuees gawking at the Towers. . . watching what looked like lumber falling from the windows, but then realized they were jumpers. . . some thought the fire in the North Tower was  being contained. . . NABE would be in touch with the hotel to see if we could resume our meetings in the afternoon. . .  saw a second plane smash into the South Tower. . .  gasps that went up from the crowd. . . '"This is terrorism."
We didn't know what was going on. There were no iPhones and cellphones didn't work. But there was radio! . . . A group gathered around a man  who had a battery operated radio…desperate for news….people at home watching TV knew about the Twin Towers and the Pentagon…and Shanksville. . .We didn't. . . We knew something terrible had happened in New York.. . We were on our own.
Tramping south along the river with thousands of evacuees. . .stopped at a vendor to buy 10 bottles to water because 'this was going to be a long day'. . . do you know how heavy bottles of water are? . . .passed them out to anyone who would take them. . .ran into NABE Past President Diane Swonk, in a suit and high heels, surrounded by other NABE members and visiting international students . . . their passports and belongings were now dust, as were ours. . . Diane, chief economist at Bank One, possessed, miraculously, a cellphone that worked. . .  She offered to have her office call people's families to let them know we were OK. . . we scribbled a dozen phone numbers on a piece of paper, she passed them on to her office.
Chip, who led Callahan & Associates in downtown DC, got a call later that afternoon from the administrative office of Bank One CEO Jamie Dimon with the message that I was OK…. Diane then led her group uptown to safety at Bank One's midtown office…I decided to head south, along the river, thinking it was safer. . .  I reached the tip of the island –there was no place to go—it was either uptown or jump into the Hudson River and swim to New Jersey. . .seriously considered the idea! . . I was part of a huge crowd of anxious people…I needed to speak to someone, to ask how they were doing, but no one was interested in chit-chat…one man nearby said he was going back to get his dog…A cloud of black smoke was coming in our direction. . someone shouted "a stampede is coming"…panic was imminent. . .but it didn't happen…suddenly, the smoke cleared, and as if by magic, a NY Waterways ferry appeared. . .I was never so glad to see anything in my life. . . I wouldn't have to jump into the river!
People boarded carefully, no pushing or shoving… we donned life vests at the captain's request. . .we looked to the sky….would we be attacked in the open water?…once in New Jersey, with no place to go, I approached  a young woman who was looking at Twin Towers. . .she was a temp, but had not gone in that day. . .an aspiring opera singer, she took me to her subsidized artists' housing unit . . we would surely be friends for life…She went with me to a nearby car rental, where I hitched a ride with a group going south on I-95. . .I insisted we stop for gas, we didn't know what was ahead….but it was OK and my ride went as far as Philadelphia…  they dropped me at the deserted airport. . . Sarah McLaughlin, the daughter of old friends from Chicago Tribune days, picked me up, drove to their house, put me up for the night. . . next day we went to the Amtrak station . . .wasn't afraid to ride the train to Union Station, or the subway home to Bethesda. . . It was another world outside of lower Manhattan. . . I had made it home in time for Alix and Scott's wedding three days later.
PS: This dramatic exodus enabled by an armada of boats  which evacuated hundreds of thousands off Manhattan in just nine hours is narrated by Tom Hanks in this 11 minute video.
The story is also told in this article Escape From New York.  Following is an excerpt:
Day and his maritime colleagues at the Sandy Hook Pilots Association — the specially licensed seamen who help larger vessels get in and out of the harbor safely — would help orchestrate the largest maritime evacuation in world history, larger even than the famous British rescue at Dunkirk.
With no plan and little direction, they would cobble together a makeshift civilian armada of fishing vessels, pleasure yachts, tugboats, and passenger ferries that evacuated somewhere between 300,000 and 500,000 people from the tip of lower Manhattan — desperate, worried, dust-enveloped people trapped by the closure of the island's bridges and tunnels. . .
The flotilla that day included upwards of 130 boats: harbor launches, fishing vessels, sightseeing ships, and dinner-cruise boats, as well as 33 ferries and 50 tugboats, plus numerous FDNY, NYPD, and Coast Guard rescue boats. . .