The boy in the yellow shirt immigrated with this family to Germany in 1970. He is now the co-founder and CEO of BioNtech.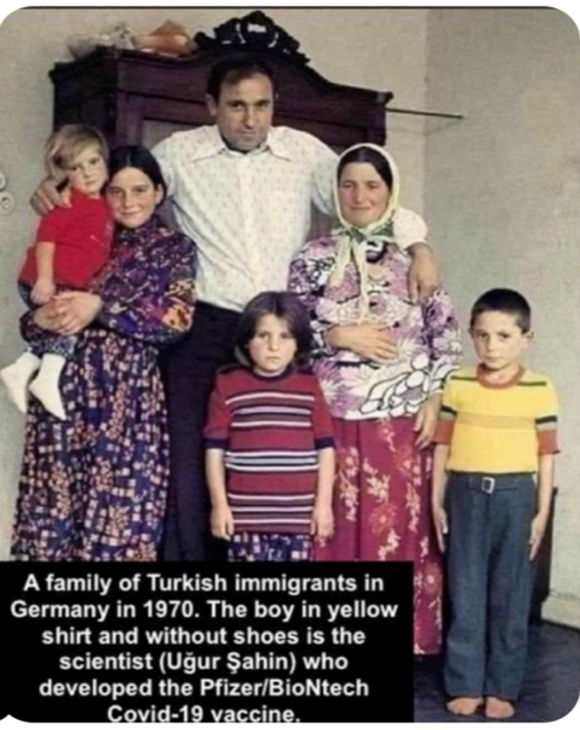 In 2020 he led the firm's COVID-19 vaccine development, now being distributed throughout the US and the world.
An Immigrant Creates First US Credit Union
Pierre Hevey, the second pastor of Ste Marie Parish, was born in Saint-Hyacinthe Quebec in 1831. At the age of 19 he entered Sainte-Hyacinthe seminary and ordained to the priesthood on July 13, 1857.
After serving in both Canada and Lewiston, Maine, Fr. Hevey was appointed as the second pastor of Ste. Marie Parish, March 8th, 1882 in Manchester, New Hampshire.
In 1908, Monsignor Pierre Hevey, as pastor of the parish, organized what would become known as the first credit union in America. The goal was to help the primarily Franco-American mill workers save and borrow money. On November 24, 1908 the new cooperative opened in Manchester as "La Caisse Populaire, Ste-Marie" (The People's Bank), the nation's first financial cooperative.
The newly formed "bank" made it possible for Manchester's immigrants to achieve the better quality of life they had envisioned. For just $5, the price of one share of capital stock, anyone in the community could become a member. Savings were accepted from workers, families, and children. The accumulated savings were, in turn, lent to members to purchase and build homes, establish neighborhood businesses, and meet the personal financial needs of the community.
St. Mary's Bank prospered. The credit union moved into its own offices in 1913 and hired its first paid, full-time manager in 1916. In 1917, the state legislature approved a bill changing the name from "St. Mary's Cooperative Credit Association" to "La Caisse Populaire, Ste-Marie". And, by 1923, the credit union's assets exceeded $1 million. In 1925, an amended charter allowed the institution to be called either "La Caisse Populaire, Ste-Marie," or "St. Mary's Bank." https://www.stmarysbank.com/nav/about-us/history/our-story