In a worldwide scientific collaboration, scientists were able to create a picture of a black hole using a network of telescopes around the globe.
The discovery raises up questions about conventional physics and previous explanations of the evolution of the universe.
The photo below shows the dark center inside the ring where matter and light are wrapped.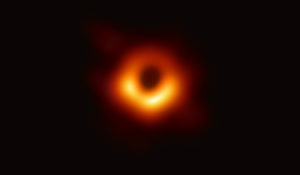 However, for credit unions this first ever picture of a black hole was hardly unique. In fact, the cooperative system has been seeing black holes with ever increasing regularity.
On March 29, 2019, the most recent documentation of a black hole was released by the Inspector General's office showing a black hole of at least $770 million dollars.
This observation was the latest in a series of IG observations going back as far as 2008. See:
Unlike the astronomical black hole most recently observed that "open up questions for scientists to explore about deep fundamental physics and the explanations offered by theories of general relativity and quantum physics, NCUA's black holes are more readily understood.
The black holes in the NCUSIF's balance sheet stem from a continuing weakness in transparency and accountability in the Board's oversight of NCUA. Although the causes are clearly understood there is no indication that these are being addressed. The only question is how many more black holes will be discovered in the future?