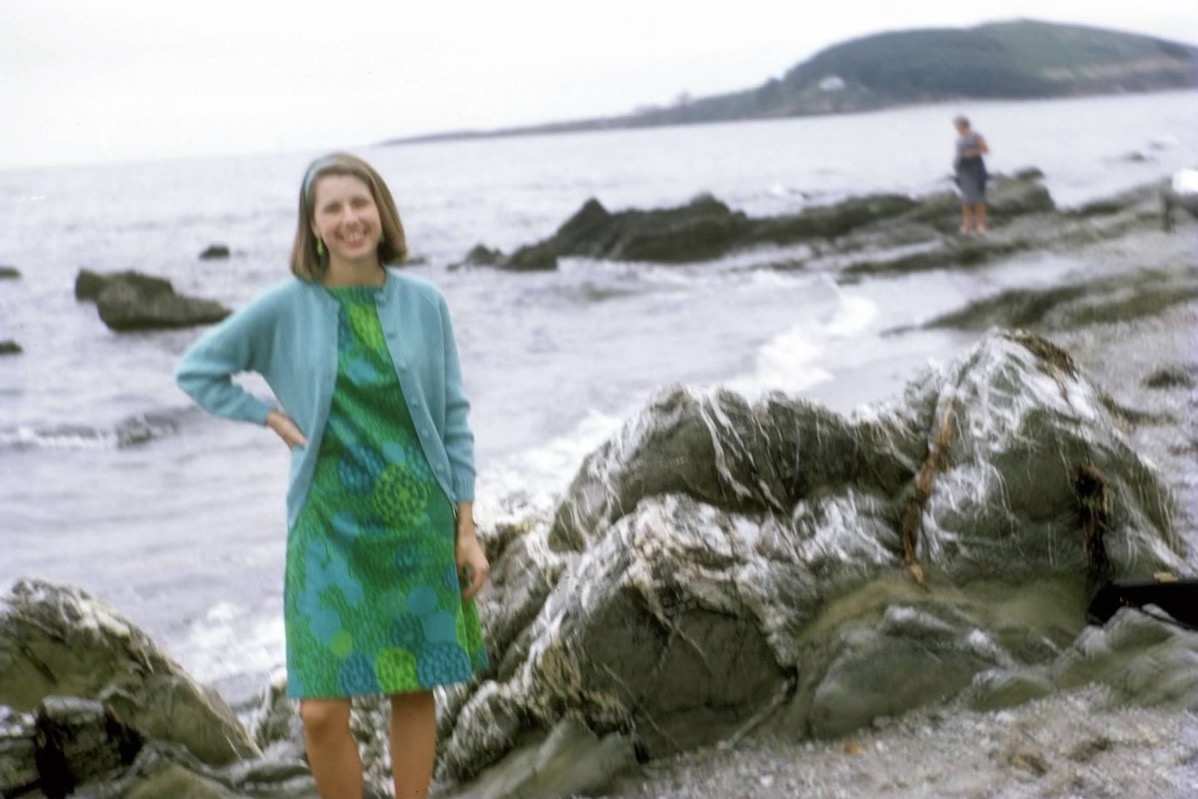 Early Saturday morning December 8th, 1984  Bucky Sebastian and Mary Beth Doyle, two NCUA colleagues, came by to give me a ride to Dulles Airport.  We were going to Las Vegas for the largest credit union conference ever.
All state and federal examiners were together initially, then joined by over 2,000 credit union folk. It was a big deal, a capstone event, for celebrating a new era of credit union success.
Mary Ann had asked her mother, Barbara Ballmer, to come and help out with our two teenagers for the week I would be away.  She got up, made  breakfast and talked with Bucky and Mary Beth when they stopped in.
Late that night, December 9th, the phone woke me in my Las Vegas hotel room. Mary Ann had died at Sibley hospital.  Her 4 ½ year battle with breast cancer was over.
We never talked about death.  I felt that was like giving in to the struggle.  She knew how sick she was, but never complained.  Her dad was a doctor. He died before I knew Mary Ann.  He had sent her away when his cancer was near the end.
Twenty years earlier, in April 1964, she wrote him when learning of his situation:  "Pop, take care of yourself and keep your chin up.  Cancer seems like a dreadful thing, but I maintain if there is a will, there is a way. I know you won't let this get you down if you can possible help it.
I admire you and love you not only because you are my father but because of everything you have done and that you stand for.   My ultimate goal in life is to be able to live up to all that you have taught me and do and contribute in my own way as you are doing in yours."  And she did.
In her own quiet way Mary Ann had prepared us for this event.   All the Christmas shopping and wrapping was done.  The new bikes for the girls were hidden in the garage.   Presents had been sent to my parents, her sister and brother, and great grandma Filson.  She had baked a half dozen of her favorite dark molasses fruit cake, wrapped the loaves in cheese cloth with rum, to age until they could be given as gifts.
Lara had just made the varsity basketball team as a freshman in high school.  Alix was doing morning swim workouts and playing piano and singing in chorus.  Both had run in the YMCA's Thanksgiving Turkey trot.  We watched.
The Christmas tree was up with stockings on the fireplace mantel.  The new wallpaper in the hallway was finished and the laundry room cleaned and painted. Her Japanese inspired garden in the back yard was planted to have some color all year round. This was the time for the very deep red finger leaf  maple and red berries on the nandina.
Signs and sounds of the season were all around.  I was upset the world went on as normal when I just felt a deep black hole.  Only later did I learn that Ed Callahan, NCUA Chairman, had opened the national conference with a moment of silence for Mary Ann.
One conversation  I remember that December night was talking on the phone with Lara who assured me that everything was OK. Mary Ann, she said, was with her Father.
The first of two Memorial services was December 17th at Chevy Chase Presbyterian Church.  The second was in Wilmette, from where we moved to Bethesda three years earlier.  The minister at both was Wally Moore who had known the Ballmer family when he was in Midland, MI and had gone to McCormick Seminary with my dad. He was the minister at First Presbyterian when we walked into the Wilmette church in the winter of 1974.  His life had been intwined with both of our families.
He described Mary Ann's unique skill of creating order and beauty in all aspects of living, including house and garden.  He talked of her deep relationships forged out of concern meeting need.  A person described her as one of "God's green thumbs" who even though when life was ebbing away, could reach out to others and affirm life in them.
In the mid summer of 1983 or '84, a stranger came to our door. He was a young French student traveling around America as a tourist.  His local contact for the Washington area had been lost.  All his belongings were in his backpack.
Mary Ann invited him in.  We shared our meals, helped with errands as he rested up.  He continued on several days later.  That fall when he returned to France he wrote Mary Ann several letters about his journey, what he was doing now, and thanks.
Wally Moore closed his remarks saying, Mary Ann understood mercy, compassion and forgiveness. . .qualities which make it possible for us to believe.  In Advent, we ask what will our blessing be?  We will be blessed by that blessing which Mary Ann received and in which she believed—that the only gift we have to give in this world is ourselves.
Glimpses of Mary Ann before returning to America
Mary Ann and I lived in three countries prior to settling down in America.
She got a job at Dow Chemical, in London, so she could be near when I was at Oxford.  She is at the National Gallery on Trafalgar Square in this 1967 photo.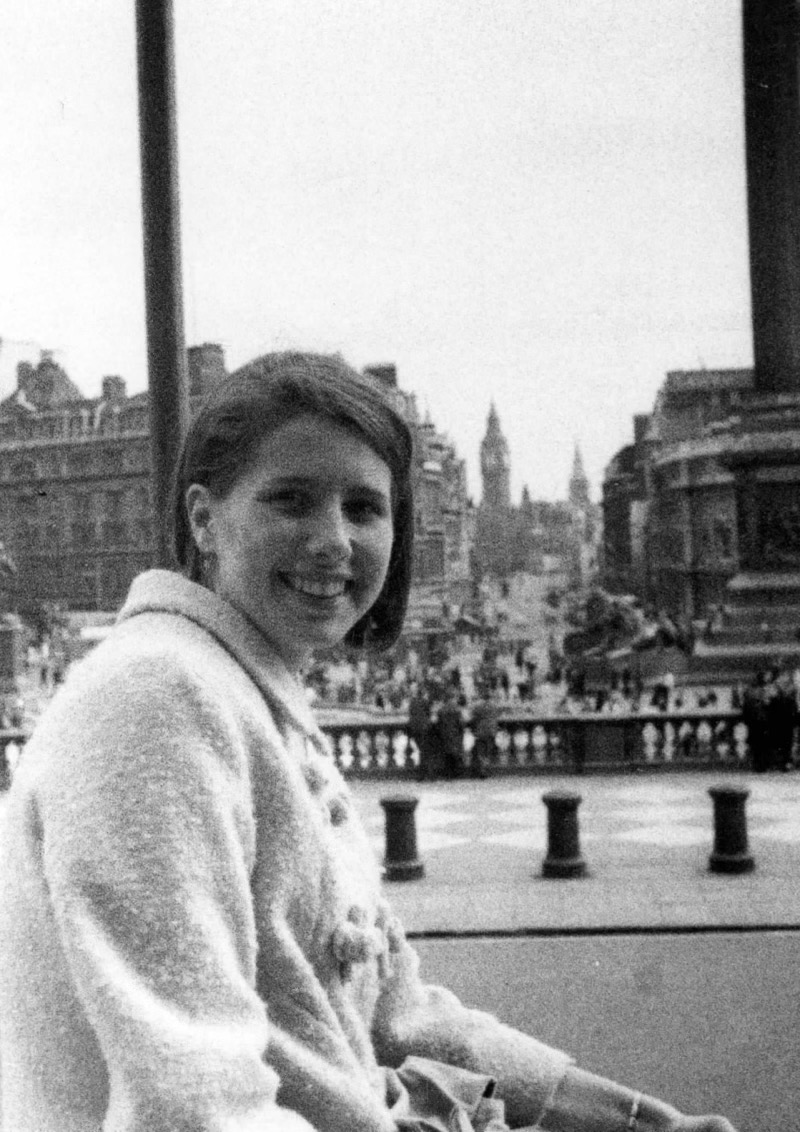 We moved to Japan when I was assigned to USS Windham County, LST-1170, home ported at Yokosuka Naval base.  She took the two children to play on the beach in Hayama where we lived the first 15 months with a Japanese family's quarters while I was deployed. That's Mt Fuji in the background hovering like a cloud.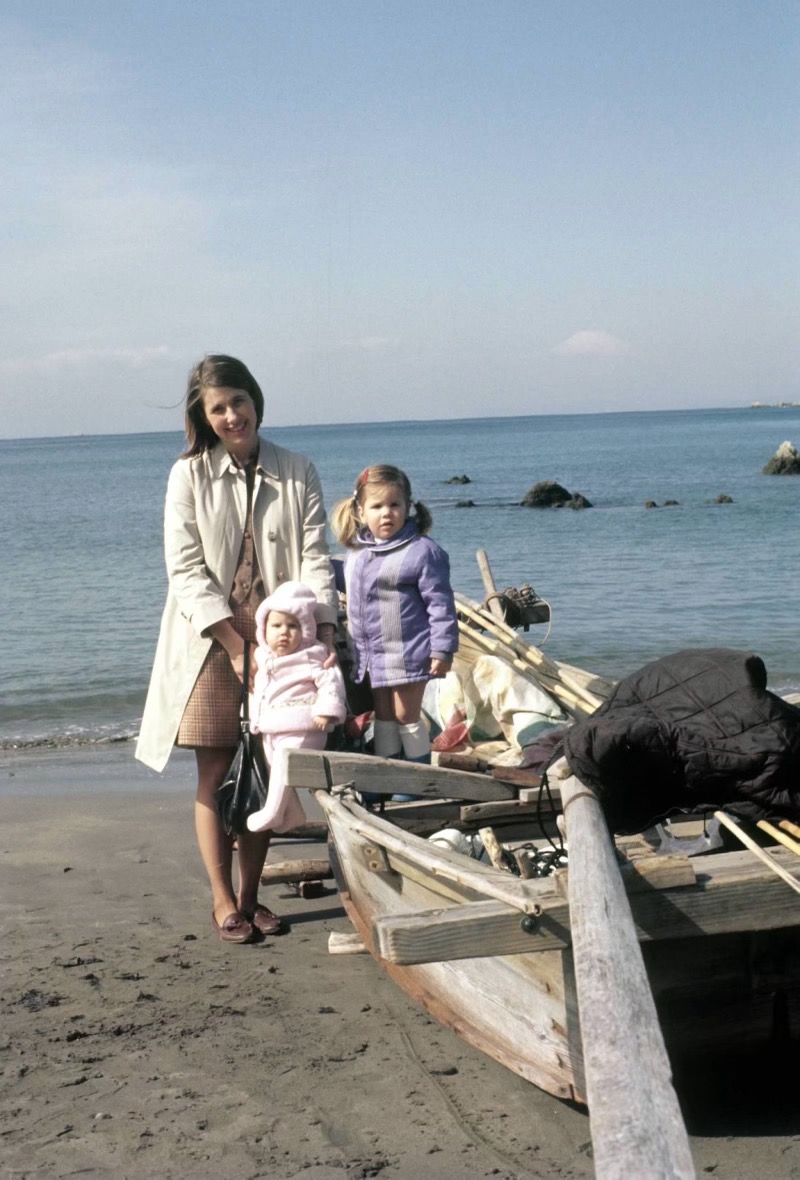 That three years was followed by another sojourn in Sydney, Australia where I worked for the First National Bank of Chicago.  Here they feed a joey, young kangaroo.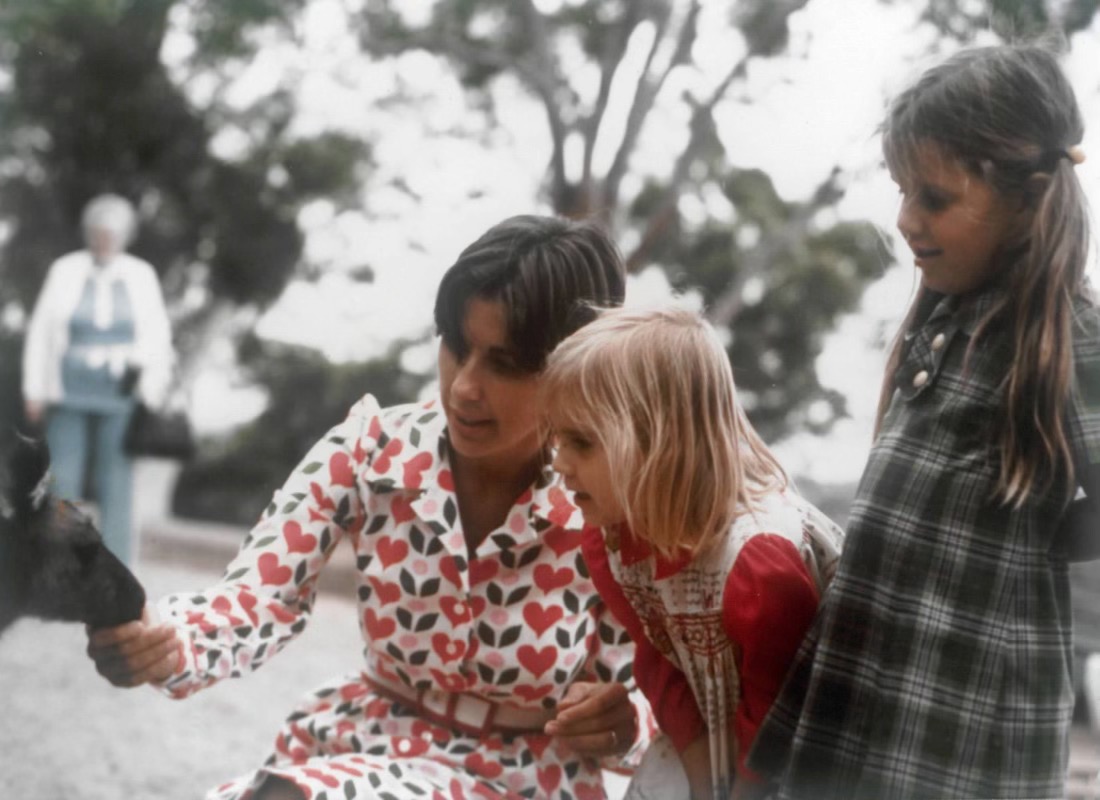 She made a home in every country in which we lived filled with lasting friendships.