July 4th marks the midway point of summer. Half the calendar's pages are gone. The days shorten by several minutes each till the winter solstice. Summer crops are gaining growth, if weather and nature's vagaries are gentle.
The musical Oklahoma captured this feeling of good will in its opening number: Oh What a Beautiful Morning. The first stanza proclaims the prospect of a farmer's potential bounty:
There's a bright golden haze on the meadow,
There's a bright golden haze on the meadow,
The corn is as high as an elephant's eye,
An' it looks like it's climbin' clear up to the sky.
This was Rogers and Hammerstein's first musical together. Opening during WWII, it created a new era in theater magic, integrating song and dance into the storyline. It ran for 2,212 performances, won the Pulitzer prize, and has been a popular production for high school and regional theaters since.
But what did a New York based composer and lyricist know about farming? "Corn as high as an elephant's eye" must be one of the most tenuous metaphors ever in musical lyrics.
Growing up in the Midwest, the phrase farmers used was "corn knee high by the 4th of July," then the harvest prospects were promising.
Climbin' Clear Up to the Sky
This spring my daughter gave me a Christmas present that did not fit in her garden plans. She had grown blue corn seedlings from a sample packet. No more than inches high, she asked if I wanted to plant them. I couldn't resist the opportunity to try my hand at farming—or maybe just showing off for neighbors.
I replanted the sprouts, surrounded by cages to protect from rabbits. The results for July 4th: somewhere between knee high and a small elephant's eye. Blue corn thriving in the summer heat and sun of suburban Bethesda.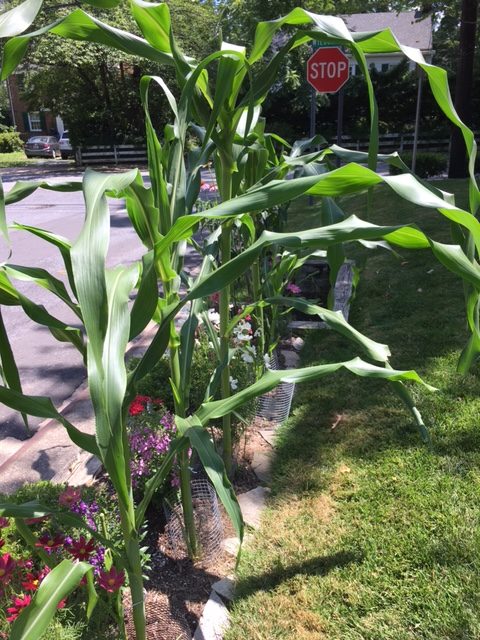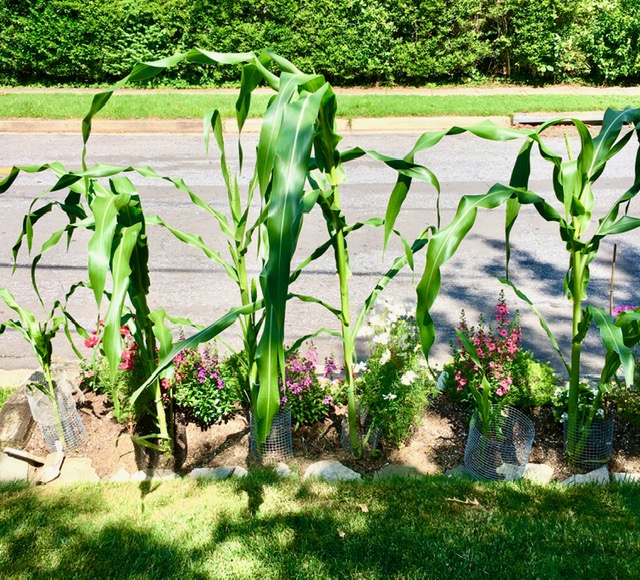 Nature's Red, White and Blue Celebration
A lot more than corn flourishes this time of year. The yard is full of celebratory colors especially zinnias and begonias.
Nature's exuberance also marks Independence Day: red verbena, red, white and blue petunias, and multiple geraniums.
White Cosmos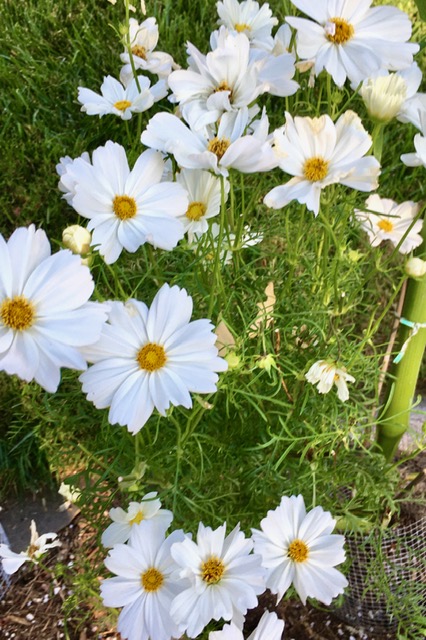 Celebrate with gratitude this Independence Day for all the joys of family, nature, and community. Or as expressed in the final verse of the opening number of Oklahoma:
Oh what a beautiful morning,
Oh what a beautiful day,
I've got a wonderful feeling,
Everything's going my way.